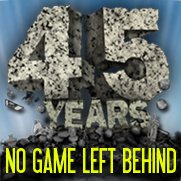 Gen Con 2012 quickly approaches and here I sit still not certain if I will be attending. I have my badge, I have a place to stay, and I have plenty of folks to see, socialize and game with, but even at this late point it is an unknown if I will be there.
Due to some recent family medical issues my availability to attend is a day-to-day decision. Even if I am able to attend it will be a shortened trip, most tentatively it would have me heading out on Friday morning and returning home Saturday afternoon. Luckily I am within three hours of Indy, so I can get away with that.
Keeping an eye on Twitter or Google+ will likely be the best way to see what the final decision is. If I end up making it out there I would love to meet up with some people, so drop me a tweet if you see me post that I will attend.
If plans do not work out this year, I think I will take a serious look at attending Gary Con this year. DCC RPG has been a big game for me this year and I think I could get a lot of quality playing up there. I might also check out CONCurrent as a possible option during the Gen Con time frame as well.
Regardless of my presence, The Iron Tavern hopes everyone has a great time at Gen Con.