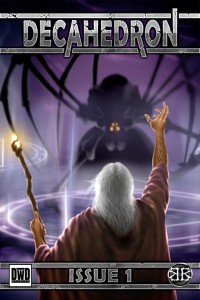 Decahedron is the first issue of its free fanzine from DwD Studios. The inaugural issue supports their recent RPG release BareBones Fantasy, a rules-light fantasy genre roleplaying game. Haven't heard of BareBones Fantasy yet? Don't worry, we will be taking a closer look at that system in an upcoming post at The Iron Tavern.
Decahedron is a short 10 page fanzine and is available for free. One of the driving goals is to provide a location for fans to get their content published and out to the community.
The first issue weighs in with six articles and a high resolution map on the back cover. The map is a typical dungeon map with 25 rooms for the crafty GM to populate and drop into his campaigns. The inclusion of a map is supposed to be a regular feature for future issues. So even if you aren't a BareBones Fantasy RPG player or GM, it could still be worth your time to grab a copy of the fanzine just for the map.
First up in this issue is a table of 100 descriptors for use with your character in BareBones Fantasy. A portion of creating your character in BBF is to note a descriptor, or short phrase that describes a focus or trait of your character. Something like "follows a strict diet" or "drinking songs invariably evolve into sacred hymns". This table has 100 such descriptors to either get your creative juices flowing or to roll randomly on.
A new spell called Commune is included in a feature called Grimoire. The entry contains plenty of crunch to be dropped into your BBF game if you are looking to add new spells to your game.
The next article was Game Options. This article covered the process that evolved into coming up with the rules for two-weapon fighting in BBF. I found this article particularly enjoyable for a couple of reasons. First, I still envision being able to play a dwarven berserker type that wades into battle with two axes. It is sort of a test as to how well a system is going to suit me! This optional feature looks promising, striking a balance between offense and defense. Second, I enjoyed reading the thought process of what discussion went into crafting the crunch for this optional mechanic. Definitely a good read!
A short adventure from Matt Jackson makes its way into the pages. Only taking three pages of print, a map, adventure hooks, and encounter descriptions are all included. It looks like a fun adventure to drop in as a side encounter for an ongoing BBF campaign or perhaps as a one-shot to demo the game for folks at a convention.
And finally the issue closes out with a new creature from Larry Moore and a new character race by Mike Wikan. Both are one-page articles that seek to add more options to the BBF game.
The art in this fanzine is excellent. DwD Studios is picking up the tab on the art contained within to help keep the fanzine free for people.
Check the fanzine out even if you are new to BBF. Even if BBF isn't your game, the map at the back is sure to be useful. The adventure within could always be adapted to your game of choice as well.