This post was written for the second annual New Year, New Game blog carnival hosted by Gnome Stew as part of the 2013 New Year, New Game challenge.
Looking Back
The Iron Tavern participated last year in the New Year, New Game blog carnival. Last year I talked about some of the things that made it hard for me to get out of my groove and try out new games. I also listed the three games I wanted to try at the table in the year 2012. They were:
Fiasco
The One Ring
Dragon Age
How did I do? Well, I did not get the chance to play any of the games on the list I made last year. The year was not a loss however! I did play two new RPG games in 2012 and added several others to my collection.
New Games for 2012
What games did I play? First up was Dungeon Crawl Classics RPG. This one is obvious to regular readers of The Iron Tavern as I have made many posts about it. I bought the book because I wanted it for the artwork. Then I started reading the book and I wanted to play it. I ended up in a brief game on Google+ Hangouts and was hooked. From there I started running a few one-shots on Google+ Hangouts and finally broke down and started running a weekly DCC RPG game on Google+ Hangouts and Roll20.
A little later in the year one of my DCC RPG players mentioned a game available for free download called Dungeonslayers. I ended up playing in a Christmas themed Dungeonslayers game that he ran. The game was a good time, something about the opposed roll mechanic that made each round of combat something a little more than rolling a 20-sider and seeing if you hit and then rolling damage. That game has evolved into a regular weekly game as we moved into 2013.
Added to my collection in the year 2012 were numerous Castles and Crusades books and Barebones Fantasy. Only the lack of time prevents me from playing either one of those. I would actually like to see one of those systems replace my default Pathfinder game, but I need to try them out to see which seems a better fit for my go-to game.
New Games for 2013
Despite not playing any of the games I mentioned wanting to play in my post last year on this topic, I am going to risk listing the games I want to play in the upcoming year. I have already mentioned two of the games from the list of three. First:
Castles and Crusades. This game has been around for quite some time. I've started collecting most of the hard covers, I am just waiting for an opportunity to play it. I am attracted to it because it is a lighter than my current go-to game of Pathfinder, but so close to the D&D feel that it seems a really good fit. Add in I can easily convert 3.x/Pathfinder adventures down to it and 1e and 2e stuff up to it, I'd have modules to select and choose from for a very long time.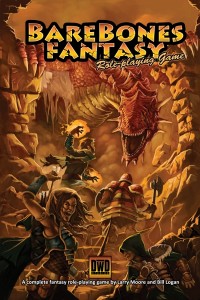 Barebones Fantasy. This game has been getting excellent reviews over at RPG Now and across several of my social media circles. A rules-light game with simple mechanics and an interesting "skills" system as class. I've done a read through of this book and really want to give it a spin this year. Just waiting for a time that a G+ game opens up at a time that I can participate.
Fiasco. This game was on my 2012 list as well, but I am keeping it around for 2013. This one doesn't seem to be catching the same talk on social media it was last year, or maybe I have gravitated to different circles. In either case, I would like to try it out to see what it is all about.
New Games, New Year
New games, New Year was a good thing for me. It got me thinking about breaking out of my normal groove. And though I did not play the games I had listed in 2012, I did get out there and play some new games. Not only were these new games a great time, but I met a lot of great people playing them. I
I have made new online friends and met several of them in-person at Gen Con. I've drifted to new social circles that are full of people doing cool things. So even though I did not actually play a single game on my list from 2012, I did get out there and play some new games, met some new people both virtually and at cons. I call that a success.
So, get out there and play some new games! Break out of your rut of playing whatever your game of choice is now and try something a little different. It has been a blast for me and I have met a lot of great people by expanding my gaming circles a bit!