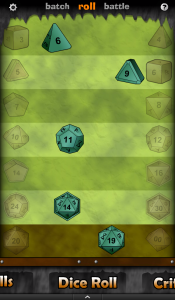 UPDATE: 2/6/2013
The iOS version of the app has been released through Apple! You can now download Crawler's Companion from the Apple App Store. Go to the bottom of this post for my iOS experience with this app.
Last summer Purple Sorcerer Games ran a Kickstarter to help fund their Crawler's Companion app. They were looking to port it to a large variety of mobile devices increasing its usefulness exponentially to Dungeon Crawl Classics RPG players at the table.
The application has been available in beta form for some time. This weekend the app has slowly been rolling out through the various app stores. The application is currently available through the Amazon Marketplace and Google Play stores. It is currently awaiting approval from Apple and Nook app store. The application is free and its increasing availability in the app stores for the different platforms will be a boon to DCC RPG players.
The Crawler's Companion puts funky dice rolling,critical hit charts, fumble charts, spell lists, and other rule lookups at your fingertips. On charts that require a roll to determine effect the user can either choose to let the app roll the dice for you or use lookup mode to enter in the result of an actual die roll.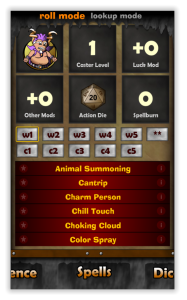 I have the app installed on a Droid X2 and the application is quite snappy! Having all of this information at my fingertips is going to be great for my weekly DCC RPG game. No more flipping through my printed cheat sheets to see what the results of the most recent spell check or critical hit are.
The released version of the app that just hit the app stores in version 1.0. Purple Sorcerer Games is already at work on the 1.1 version which will include a batch dice roller, initiative tracker, hit point tracker, a new options screen, and the ability to change dice colors.
If you are a Dungeon Crawl Classics player or judge, be sure to check Crawler's Companion out. Even if you aren't a DCC RPG player, you might find the dice roller worth the download for quick rolls on your mobile device.
Updated: I still have a generation 1 version of the iPad. Application support is slowly growing more limited as my device ages. Purple Sorcerer Games worked hard on making this app run on generation 1 devices. This work helped make for an app that ran well on the generation 1 iPad and quite efficiently on the newer devices. So far the app has done great on my test drive of it on my iPad. A great application for DCC RPG fans who own iOS devices! You can't go wrong with this free app from Purple Sorcerer Games!