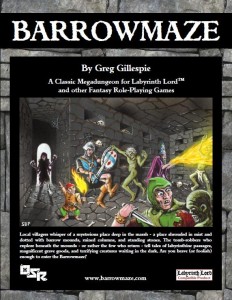 No, this isn't a post where I am offering advice on running megadungeons. This is a post where I am soliciting advice on running megadungeons! See, I have the itch to run a megadungeon campaign over the winter in some form. I have the rules system pretty much picked out, Swords & Wizardry Complete. But I need some guidance on a couple of things.
First – I need a megadungeon! I own Barrowmaze and have dabbled in that with a campaign with the kids. It seemed to work well for the amount we played in it and could be suitable for my plans. I have Stonehell on the way, I should receive it this week. And I am not opposed to picking up something like Rappan Athuk. But with all of these choices, I need to make a choice!
What does the crowd think? Which published megadungeon do you think would be a good one to base a campaign on this winter? Why do you think one is better than another? Sell me on your favorite megadungeon and why I should use it for my nefarious plans.
Or – on a more ambitious possibility, I like to map, I like to write, maybe I should create my own megadungeon this winter and possibly turn it into a package for other folks to use. The downside is one, the work, and two, I feel like I should get the feel of an already published megadungeon to see what works and what doesn't work before setting down the path of creating my own. So maybe this is more a future project for me.
Once I determine what megadungeon to prep and run, how do I keep it from turning into a "grind"? I expect exploring room after room will be fun for the first 4 to 6 weeks, but what about after that? What can I do as a GM to keep things interesting and not turn the megadungeon campaign into a slog partway through?
I figure I need a nearby town, so the experience can be more of a the group ventures to the dungeon, explores, and then retreats the end of the session. Rinse and repeat. Do I need to sprinkle in some non-dungeon crawl adventures on the side for "breaks" between the megadungeon? I likely need some way to keep the dungeon alive – restocking rooms, making sure to make prior decisions and combats matter later in the game, etc.
I plan on setting player expectations prior to the campaign, so players will know what they are getting into and hopefully be in the mood for a similar campaign style. I also plan on this being a 3-4 month long thing, then put it aside until next year, and so on.
What is your advice for really making a megadungeon fun and exciting?