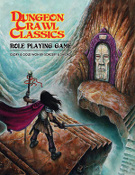 'Mission Impossible' is the second episode of a Dungeon Crawl Classics RPG actual play podcast. Additional information can be found at http://irontavern.com/podcast.
Session Synopsis
This week the chaotic adventurer's interrogate the kidnapped wizard Izdrell prior to meeting Captain Rhak from the city watch regarding the winged ape-man attack in the city streets earlier in the day. With a possible deal struck the group makes preparations to assault the everchanging wizard's tower in the northern ward of the Great City…
Note: As is prone to online play there was a slight technical issues with one player's audio during the first 20 minutes of the episode.
Download Link:  http://irontavern.com/wp-content/uploads/2013/11/Episode-2.mp3
Credits
Intro and outro music is 'Wrecking Ball' from 137 from http://music.mevio.com.