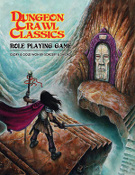 'Temple of the Moon Ritual' is the twelfth episode of a Dungeon Crawl Classics RPG actual play podcast. Additional information can be found at http://irontavern.com/podcast.
Session Synopsis
The party enters the City of the Dead to seek out the body of Ephardius in order to learn more of Leotah and her defenses at the tower. Tsanth harasses the fledgling clergy of Cthulhu in order to further prove Mani's power and growing relevance within the city.  During the day the temple is prepared for the evening's ceremony to Mani. That night the party must defend the Temple of the Moon against an attempt from Leotah's minions to interfere with the ritual.
Download Link: http://irontavern.com/wp-content/uploads/2014/03/Episode-12.mp3
Credits
Intro and outro music is 'Wrecking Ball' from 137 from http://music.mevio.com.