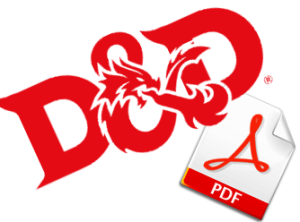 I have been buying the D&D 5e products as they have been released. I have been very pleasantly surprised with the system since I started reading the Basic Rules. The Starter Set seemed very nice (though lack of cardstock covers was a stupid decision) as well. I already had the Player's Handbook on pre-order and ordered Hoard of the Dragon Queen shortly after starting my read of the PHB.
Rules wise D&D 5e looks like it will be fun to run and play. It seems a nice mixture of some older school though with some newer mechanics. The things I don't like about it are often called out as optional (Dragonborn, Tieflings, and feats – I am looking at you). And that is what led me to order Hoard of the Dragon Queen.
I am looking to run a weekend family game (plus some close friends) and was trying to decide between the Starter Set adventure and Hoard of the Dragon Queen. Both look like fun to run, so I am still a little in the undecided camp. But, this post isn't about that – I just wanted to be clear up front that so far I am very impressed with 5e and supporting material.
Except for one thing. I need PDFs!
Mearls on PDFs
PDFs and 5e is of course a frequent question from folks. All the major game systems have PDFs of the rules. Just in games I play – Pathfinder, Dungeon Crawl Classics, Labyrinth Lord, Swords & Wizardry, etc, etc – all have PDFs of the rules. Most, if not all, have PDFs of the adventures available for them as well. We've had this option for years.
Now we know Wizards isn't entirely afraid of PDFs anymore. Just look at http://www.dndclassics.com/ Lots of PDFs available for versious D&D versions and supplements through the years. Awesome stuff!
So why no PDFs for 5e yet?
Well – between the recent EN World interview and Tome Show interview with Mike Mearls we can piece together some of what is going on. Let's look at each point (summarized by me, but feel free to read or listen to the actual interviews at the links above).
There has been no official announcement on PDF support. It sound like Wizards is interested in some form of electronic distribution, but haven't decided what will work best. So they are playing it safe and possibly watching how things evolve.
Eh – sort of makes sense. But the lack of official announcement or being very forthcoming with what is going on is actually causing some of the bad rap Wizards is getting out there in the community. Talk to us. Let us know what is coming. Folks are making decisions now – PDF support factors in for some people.
They want to avoid people feeling cheated because the bought the PDF of something, but then find out they have to pay for Dungeonscape content.
Hey! That's why you make official announcements and let people know what is up. Tell people – here is a PDF version, but be aware we have this cool new tool coming where you will need to buy content in it as well. So if you want the cool new tool you might want to hold off on buying the PDF. But for those who don't care about the new electronic tool, here are the PDFs.
So much of Wizards bad feelings on the 5e release has been the lack of communication. Which has left people guessing and something thinking the worst. Communicate! It would solve the PDF vs. electronic tool purchase decision for a lot of folks.
They don't want to cause undo competition with Dungeonscape, the electronic tool coming for 5e by the end of this year. So rather than harming the Dungeonscape initiative Wizards is holding off on anything that might compete with that electronic product.
I only know what I have read online about Dungeonscape. Again – folks are pretty vague about this. But some info did trickle out from Gen Con and here is what I have to say to this. Dungeonscape sounds more like Hero Lab for Pathfinder than a PDF replacement. It can handle character generation, let me add some custom items, and walk me through several rules based things. But it doesn't sound like a PDF replacement, just a character generator/campaign management tool. It sounds neat, but not the PDF format I desire.
Again – up front communication would solve the competition issue I think. I suspect it would become clear these aren't really identical products. Or at least with enough official info we could determine which path we wanted to take as a consumer.
I will have more on Dungeonscape in a minute on what if it is the PDF replacement, but read on.
Wizards wants to figure out a way to provide a stripped down utilitarian format PDF type electronic distribution, because that is what people want.
What!? If this is the thought I think Wizards is way out of touch with what us folks that like PDF versions of products expect. I don't want a stripped down utilitarian version. I want art, I want maps, I want tables, I want bookmarked PDFs, and hyperlinks between sections. I like layers in adventure PDFs, because that helps me with online games. By no means do I want a stripped down utilitarian PDF.
I understand there is a group of folks that want ePub format. I don't really fall into that camp as I find the PDF format extremely versatile, multi-platform, easy to use with cloud storage, etc, etc. But I don't even think the ePub folks want a stripped down version, they just want a fully featured electronic format that is actually useful.
There is some note of splitting a PDF or electronic pieces – i.e. just the fighter, just the spells. Uh – no, I don't want this either. I don't want to buy my electronic document via microtransactions. I want the whole thing.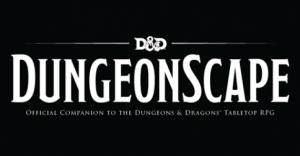 Dungeonscape
A lot of attention is going towards Dungeonscape as the answer for electronic distribution. First, from what I have read I am skeptical it is going to actually be in a position to replace PDFs. It sounds much, much more like a character generation tool and/or campaign management tool. Cool stuff to be sure (I love Hero Lab for Pathfinder, but it doesn't replace PDFs of Pathfinder products – they are different tools).
But let's say Dungeonscape does let me read the rulebook from page 1 to the end. And that it can handle adventures (because, really – I want a PDF of Hoard of the Dragon Queen which I am getting to…).
This is a no deal for me. I simply don't trust a 3rd party for a niche hobby to be a long lived company. I certainly hope they stick around while the edition is supported, but I am thinking longer term. Small companies just don't have the resources to keep up as easily as someone like Adobe who makes my PDF reader.
Supposedly you can use Dungeonscape offline which several have said is good enough. But what if my iPad crashes and Trapdoor Technologies is no longer around? Did they let me make backups of my data files? Or do I need to redownload them from their servers (ooops, they shut them down for 6e). Or say iOS jumps in version, will their app still work? I have apps that are still supported that need to release updates to work with the new iOS versions. How about web browser updates? There are just way too many things that I can't get from a 3rd party who may or may not exist in 5 years.
Meanwhile PDFs are a standard. There are multiple companies that make readers for PDFs. Big companies. If the PDF standard gets passed to the wayside for something better, I can count on some company to build in a tool to save existing files in the new format. A pain to be sure, but an option. And given the predominance of the PDF format I can simply trust that I can access or convert my PDF files in some form or fashion for many, many years to come – regardless of what happens to Paizo or Wizards as companies.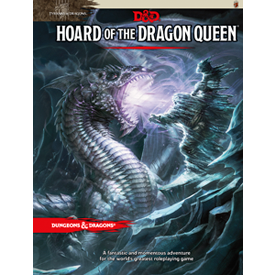 Why I want a PDF
A lot of people want a PDF version of the PHB. And I am in that camp. But this post is more about a PDF of Hoard of the Dragon Queen. So much of my adventure prep these days is done from PDF. I can put the file in my Google Drive and access it from any computer I use regularly, my iPad and even my phone. This is extremely convenient for me. I do a lot of game prep away from home. Having the adventure (and rules) in electronic format is a huge plus for me.
As I noted earlier, a large number of companies already give me this ability. So here is how I use the PDF for game prep.
First, just a general read through of the adventure while at lunch, while waiting for an appointment, etc. This need is pretty easily met in nearly any electronic form, but I prefer PDF for the supportability and lifespan of PDFs as opposed to 3rd party proprietary software that I must use to read the material.
Second, I extract the maps out of the PDF for use in online play via Roll20 or something similar. Paizo used layers on their maps so I actually ended up with player ready versions of the maps in mere moments. Super cool. Without a PDF I am left with the cumbersome option of scanning actual book pages. While I can do this, it takes a lot longer manipulating the scanner and rescanning the ones I inevitably mess up by not having the book straight, etc.
Third, if so motivated I can capture images of NPCs or generate handouts for the players. This is especially true for online games. This again is much more difficult without a PDF version of the adventure. My prep time increases and it is a hindrance to online play. And a lot of my gaming happens online these days.
Maps for Sale
To be fair, in regards to Hoard of the Dragon Queen the maps are for sale by the cartographer in digital form. At quick glance it looks like it would cost $18.50 to purchase all of the maps from the adventure. That could solve my online map issue. I do question spending $18.50 on maps and still not having a PDF version I can use anywhere and still not having an easy way to handle handouts, or NPC pics though. I also have no guarantee future cartographers for future adventures will do the same thing.
Summary
These are the reasons why I want a PDF of the rules and adventures. The face of gaming has changed over the years and more and more of us rely on PDFs for game prep – both for face-to-face games and online games. The other big player in the gamespace provides PDFs for all of their supplements. So to woo some of those folks away, Wizards will need to provide similar materials to help support the way we prep for games.
I like what I have seen of 5e so far. It looks like a solid system. I am just getting frustrated as I prep this adventure with no electronic support. I get even more frustrated when I see Wizard's representatives trying to tell me what I really want is a stripped down, utilitarian electronic format of the rules or adventure. No – I want the PDF – my game prep is centered around having such tools at my disposal and I feel safer in my "investment" of a PDF than a proprietary 3rd party software app for a niche industry.