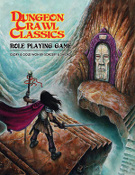 'Saving Abishag' is the 28th episode of a Dungeon Crawl Classics RPG actual play podcast. Additional information can be found at http://irontavern.com/podcast.
Session Synopsis
The group once again finds themselves in a very familiar foyer. With attempts to leave via unconventional means foiled, the party has no choice but to move deeper into the tower along the path Leotah has set before them. Again on familiar territory the group must solve a riddle to make further progress beyond Leotah's challenges and to have any chance of saving Dandelion's child from her evil plans!
Download Link: http://irontavern.com/wp-content/uploads/2014/12/Episode-28.mp3
Credits
Intro and outro music is 'Wrecking Ball' from 137 from http://music.mevio.com.