For a little Thursday fun for people playing games online with Roll20, let's hear what your Roll20 stats look like! Specifically, how many hours have you played using Roll20? I noticed this little piece of information a few weeks back when I was prepping my Shudder Mountain DCC campaign. I thought it would be interesting to see how much Roll20 time other people have logged.
Here is how to check your stats.
Login to Roll20.net
On the upper right portion of the screen, choose My Profile
Just below your name on your profile page, you will see a line that includes when your account was created and how many hours you have played.
Something like this: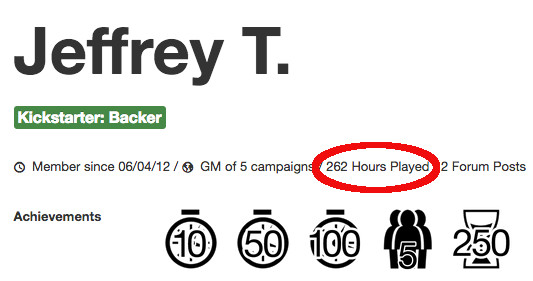 Looks like I started using Roll20 back in June of 2012 and have logged 262 hours of play time since then! Just for those curious, the vast majority of those hours have been running Dungeon Crawl Classics games, but I've also logged some hours running Labyrinth Lord one-shots and playing in Dungeonslayers, Swords & Wizardry, and Labyrinth Lord games as well.
Contest
I haven't run a contest at The Iron Tavern for well over a year, so let's turn this into a bit of a contest. Post a comment here with the amount of time you have logged on Roll20. Only comments on this blog post will be considered for entry. Feel free to mention what you've been playing as well, I'm curious.
On Monday (2/16/2015) I will compile a list of comments and randomly select 3 winners who can choose to receive one PDF product selected from The Iron Tavern Press offerings at RPGNow.
Two of the three drawings will only include people who have logged hours on Roll20. Please be honest. But if you haven't played on Roll20 yet and have no hours logged, post in the comments 0 hours and I will still include your name in the 3rd drawing.