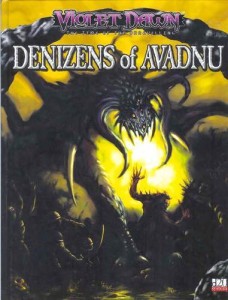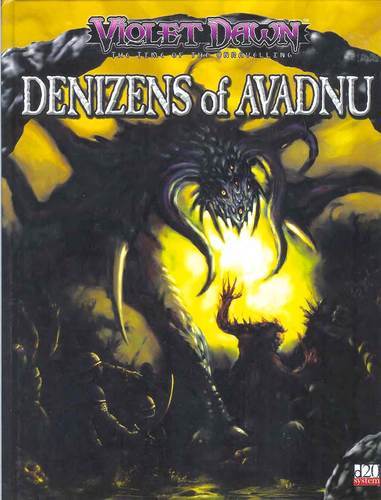 Potential is a powerful word.  It is used all the time and seen in the people around us.  We get a hint at what might be and we hope to see the potential realized.  Many times it isn't and we are left wondering "what if?"  I can't imagine what it must be like for companies that impress with their first gaming product but are never able to live up to the potential the gamers see who get their first book.  This week I'm looking at one of the best and most creative monster books for D&D/ Pathfinder I have seen.  I like it better than Privateer Press' Monsternomicon, Necromancer Game's Tome of Horrors, and Green Ronin's Advanced Bestiary.  All three of those books are well worth owning and writing about. I am going with a lesser known book by a company that doesn't seem to exist anymore and needs to be seen by more gamers instead of the more popular selections.
Denizens of Avadnu is a monster book written for 3.5 D&D.  It is the first product Inner Circle produced for their Violet Dawn setting.  While a great book I think it was a mistake to make the monster book first and not the setting first.  There was a PDF release of epic level monsters and I think some information on unique races to the world but I don't recall they ever published the full setting.  The book was also a bit expensive I felt at the time.  It was priced at $40 for a 225 page full color hardcover book.  On their gaming site http://www.icirclegames.com/index.html you can order the book for just $10.  You might be able to find it cheaper than that, but I do like giving money to the publishers especially small press ones like them.
Flipping through the book I am still amazed at the full color art and the overall look in this book.  It is beautifully done and still one of the best looking monster books.  That is just the beginning as the creativity is off the charts.  The monsters are all original and feel very different.  There is nothing in here that seems like a goblin or orc with a few changes.  There are no new devils or demons or other monsters like those that just build off of other creatures.  Each creature is given its own page.  This allows for a lot of good information and that is needed with these creatures.  The normal description and combat entries are there, but there is also information for adventure ideas using the creatures and specific information of the creature in their setting of Avandu.  Going through and just reading the Avandu sections really makes me want to see a full setting that brings together all of the  great little details offered in this book.
One of my favorite creatures in here is called the Dread Spire.  It is an aquatic creature rarely seen in places not thousands of feet below the surface of the oceans.  It resembles a huge tower with tentacles coming out from it and it is different and weird.  The book also has animals and vermin, though each is also given a unique twist.  I like that it introduces creatures that are non-Earth native but treats them like normal animals.
Denizens of Avandu is one of those books that even after almost ten years I find myself keeping my copy though multiple book purges and finding ways to use it.  It is great for those D&D players that think they have seen everything.  There are some really odd and cool creatures in here and being able to show the players amazing art of the creatures makes them that much better.
Chris Gath.  I've been gaming since 1980 playing all kinds of games since then.  In the past year I've run Pathfinder, Dungeon Crawl Classic, Paranoia, and Mini d6.  My current campaign is mini d6 and we are using that for a modern supernatural conspiracy investigative game.  On some forums I'm known as Crothian and I've written a few hundred reviews though I took a sabbatical from reviewing for a few years as it burnt me out.  I was also an judge for the Gen Con awards (ENnies) six times.  Jeff, the owner of this blog, is one of my players and a good friend.