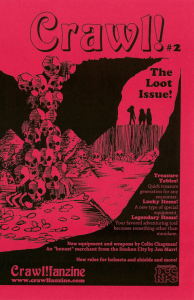 The Crawl Fanzine for the Dungeon Crawl Classics RPG has become quite popular for fans of that game. The zine is made by the fans, for the fans and features homebrew rules, adventures, patrons and more for DCC RPG.
The Iron Tavern has positively reviewed issues number 4 and number 5 here. Until now the only way to get the Crawl Fanzine from Straycouches Press has been to receive the print copy. Frankly, the print copy is great and having a subscription to the print copy leaves me anxiously awaiting the postman on release weeks for my issue to arrive!
That has all changed! Crawl is now available in PDF from RPGNow! I picked up Issue #1 earlier today in PDF as I only started reading the zine starting with Issue #2 and had not gone back to pick up the first print issue. It looks great and PDFs are a super easy way to get fast access to this great fanzine for Dungeon Crawl Classics RPG.
Right now the first three issues are available, the others are on their way. The prices are currently discounted at initial release as well. If you have been waiting to check out the zine, this is a great opportunity to do so!