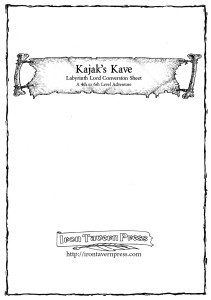 Pocket-Sized Encounters from Iron Tavern Press are designed to be easily placed in your existing game to fill an evening's worth of play as a short side-trek. While written to be compatible with the Swords & Wizardry system, they are easy to convert to your fantasy RPG system of choice.
Sometimes though even a relatively easy conversion is too much. Wait no longer Labyrinth Lords! Iron Tavern Press has created a Labyrinth Lord conversion sheet for the first Pocket-Sized Encounter release, Kajak's Kave. This free PDF is a one-page sheet that presents the stat blocks for the encounters in the Labyrinth Lord format further reducing conversion time.
The conversion sheet is available for free at RPGNow. It does require the Kajak's Kave Pocket-Sized Encounter product to get full use from the conversion sheet.