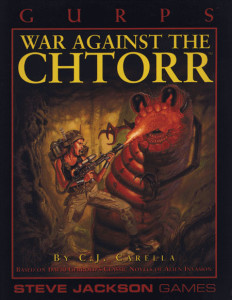 This review covers the GURPS book War Against the Chtorr based on the series by David Gerrold. If you enjoy a different kind of Alien Invasion series then I suggest trying them out.  The series starts with A Matter for Men that was published in 1983 and since it is 30 years old can be found cheap in many used books stores and to borrow in local libraries.  This review will contain some spoilers.
Alien invasions are a common theme in much science fiction.  Usually ships come from outer space and Earth is at war.  Rarely is there a different kind of invasion but that is what one gets in the War Against the Chtorr series by David Gerrold.  Gerrold is not a household name among science fiction writers but many more people are familiar with his work then they realize.  His most famous piece of work I would think is the episode Trouble with Tribbles for Star Trek the Original series.  In 1983 he wrote A Matter for Men the first book in the series.  There are now four books in this uncompleted series but they still make for some very good reads.
The blog post though is not a review of an incomplete series.  It is about gaming and thankfully GURPs put out a book called War Against the Chtorr allowing gamers to experience this alien invasion.  Like many GURPS books it is filled with useful information and not bogged down too much by rules.  I am not a fan of the GURPS system but I still own fifty or so of their sourcebooks because they are so easy to use in other systems and many times are more informative then other gaming books on the same topic.
The Alien Invasion is subtle.  They did not arrive with ships or by dropping asteroids on the planet or even by transporting huge monsters to us through an undersea rift.  The characters in the books believe that is started with billions of microscopic particles that came from deep space and arrive on Earth.  There it slowly reproduced and started to create small pockets of an alien ecology.  The first evidence was massively deadly pandemics.  They hit one after another after another and by the time some scientist were figuring things out the population and infrastructure was in serious jeopardy.  That's when in remote areas of the world people started to notice alien creatures and plants.  The creatures there evolved and changed and produced more different kinds of aliens.  They are not a united front and they do prey on each other.  But they also are devastating to the Earth's ecology and they are winning.
War Against the Chtorr is one of the easier licensed projects to have a campaign in that mimics the books it is based on.  It would work best if the players are not familiar with the books.  I imagine that won't be too hard to do.  Then you just have the PCs make discoveries and learn more and more about what is going on just like in the books.  The aliens are really alien and different than what we usually see in science fiction.  It is more than just killing them but trying to understand what is going on and how it all works.  The GURPS book has twenty pages on how to do a campaign with great ideas and ways to make it all work.  Many times license projects just give ways to make characters and some setting information but leave the question of "What do the PCS do?" unanswered.  The book has forty alien plants and animals for the PCs to discover.  Even by the forth book of the series the characters are discovering new types of aliens and understanding older aliens they thought they had figured out.  Pacing of information might be one of the more challenging aspects of this campaign.
Technology in the books is advanced in some ways and others not.  I think one can still keep the feel of the books tech but adapt and incorporate some of today's high technology that surpasses what we see in the book.  Near future science fiction has always had these types of problems.  The GURPs book does a good job of mapping out the technology from the series.  Some of it like the giant Zeppelins from the fourth book I'd probably change but they did serve a unique purpose for attempting to communicate with some of the hives.
One aspect that makes it much different from other alien invasion stories is the lack of a command structure for the invaders.  They have shown in the books creatures of different intelligence but if there is a true unifying intelligence behind everything we haven't seen it.  That can happen with uncompleted works so it doesn't always give the PCs great direction knowing there is one being or something specific to strike against.
For fans of the series the GURPs book is important because it builds off of Gerrold's notes and includes nuggets of information that have not been published in the series yet.  In 2005 the names of the three final books were announced and I had hoped that we would have a new book released by now but since it has been almost 20 years since the release of book four, A Season for Slaughter, I fear we will never get a completed series.  I'm okay with that as I'm not sure we could get a happy ending that did not feel forced.
Chris Gath.  I've been gaming since 1980 playing all kinds of games since then.  In the past year I've run Pathfinder, Dungeon Crawl Classic, Paranoia, and Mini d6.  My current campaign is mini d6 and we are using that for a modern supernatural conspiracy investigative game.  On some forums I'm known as Crothian and I've written a few hundred reviews though I took a sabbatical from reviewing for a few years as it burnt me out.  I was also an judge for the Gen Con awards (ENnies) six times.  Jeff, the owner of this blog, is one of my players and a good friend.