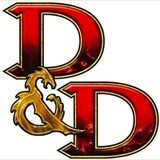 I am now hanging my head in shame. A shame that I would never have thought to be possible. For two weeks I have lead a public charge to find players to test the final play test release of D&D and in each of these weeks I have found no one. I even tried to appeal to my American compatriots (where I have the largest readership) and run it in an American friendly time which would have meant me getting up early. But alas, my inbox was a place for tumbleweeds to breed and blow across the empty folders of my D&D Next playtest folder.
Melodramatic? Maybe. Over the top? Perhaps. Serious? Definitely. I am but one person who is trying out this game but I can honestly say that this is the first time ever I have tried to get a game up and running and failed. The sadder thing is it does not seem to be an isolated incident when it comes to play testing this game. I have had comments on my blog asking for me to keep people in the loop of what the game runs like because they can't find anyone willing to play it. I have had other comments where they played a game or two but it all fell apart due to lack of interest.
Is D&D dead?
It looks as though it is to me. I find this very disappointing as the game that I have read offers a lot of potential. It looks like a game that packages together a really workable system of the game. I mentioned last week that it feels like a retro game, and it does. But I have now worked out why. It is because it does not bring anything new to the table but what it brings is a really solid combination of rules and playability that comes packaged in a familiar way. D&D is the security blanket to a lot of people, or at least used to be. I have seen all of the mechanics that are included in these rules elsewhere. There is no smoking gun. No mechanic that illustrates a system of brilliance I can't live without but it has an excellent balance of good, proven mechanics that do not get in the way of playing it.
It is disappointing to me in another way too. I got excited about D&D again. I have not been excited by D&D since I got the first 3.0 players handbook in my hand (and that wiped the excitement away very quickly). This system makes me think I would enjoy it just as much as I did the Basic set of D&D. But I just don't know and that irritates me. Do I go out on a limb and buy the books anyway? Possibly running the risk of purchasing dead weight that will never see a game?
I am now calling it, good people of the Iron Tavern Blog. My D&D Next reviewing days are over. My conclusion on the whole scenario can be surmised by the following statement. "D&D Next is perhaps amongst the sleekest designed systems I never played and may go down in history as the best version of D&D that killed the franchise due to lack of interest" RIP D&D, you created many hours of fun in my life and I will be sad to see you go. Keep rolling!
Mark Knights is  39 year old guy living in a small rural town called Elliott in Tasmania, Australia.  I have been role playing since I was 11 years old playing the original versions of Dungeons and Dragons, MERP, Elric, Dragon Warriors and the like amongst other genre games.  I played D&D 2nd Edition through the 90′s but I ran Earthdawn for my fantasy setting and loved it as a GM.  When 3rd Edition came out for D&D I tried it but found it too heavy on rules.  I ignored the 3.5 edition of DnD in favour of Earthdawn (big mistake) as I thought it was just a money spinner.  When 4th Edition DnD came on my players and I gave it a red hot go but hated what it had dumbed the game down to be.  On a trip to Melbourne to buy some 4E stuff from a hobby store an old mate of mine pointed me at Pathfinder and in a Fantasy setting I have never looked back.