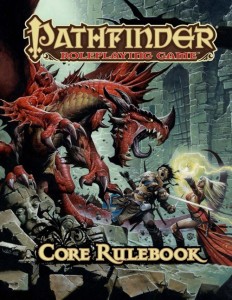 So, hopefully we are going to start a discussion here that I have been wanting to have for some time. I think this is an important discussion to have and I most certainly want to hear your point of view on it. I want to discuss the one thing that I dislike the most about Pathfinder and it is not even Pathfinders fault, it is a legacy of third edition D&D.
I dislike complex rules systems and Pathfinder is really not all that difficult except in one aspect. Feats. I hate feats. I hate them as a GM and don't mind them as a player which is a bit of a paradox. I GM far more than act as a player. If people ask me what I do not like about Pathfinder I will unerringly mention feats. These things have been a core of the rules since Wizards of the Coast created their first version of D&D and interestingly enough Wizards of the Coast in their D&D Next material have begun to pull away from them as well. Is it possible that the company that created this curse is as annoyed at them as I am?
Why do I hate them? It is down to one thing and that is rules bloat. Every single feat is a little gem of rule changing evil, or new rules or rules twists. And there are thousands of them depending on how many books you have. They are little packets of moderately powered rules changes. Consider that from the GM's perspective who works to be an arbiter of the rules. The d20 based rules of Pathfinder are pretty easy to come to terms with but then when you look at feats you have to rethink everything you know because for nearly every rule they mention there is at least one feat that modifies it. Apply several of these to a character or creature and you really have a complex series of interactions occurring that you need to juggle in game which can be quite a hard job.
I understand the rationale behind feats though, which means I am torn. Feats were introduced so a character could apply some individualization. Prior to this (2nd edition D&D), if you played a fighter, a fifth level fighter had all the same abilities as any other fifth level fighter. The differences between characters largely came through experiences and favored equipment. TSR realised that with newer style games coming out focussed on character customization that they were beginning to lose players. They worked on their books that introduced more combat options and also started working on certain builds that mixed up the character creation process. I actually think it was this explosion of customizable material that led to a lot of rules bloat and confusion to 2nd edition and it also caused a lot of players to leave the system.
Feats were born in third edition so the customization was built into the core rules from the very start. When I first played 3rd edition I liked the concept and enjoyed the differences they could create in a character. Of course I did not know then, when I held that Players Handbook 3.0 that feats would bloat horribly. To customize anything the company would add more feats, the third party contributors would add more feats and in the end feats became a swamp that I found myself being sucked into. Overwhelmed I could not get out. So between feats and attacks of opportunity I left my 3rd edition D&D behind.
So, there you have it. I do think feats overcomplicate Pathfinder, but what can you do? As a player I like feats because each one gives me that little bit extra for the character but as a GM they are too much. Especially when players take feats but take no responsibility in keeping them in mind either and a round after an action they try to retrospectively change it because they forgot X feat did Y. Then every NPC has reams of feats, monsters have them too as well as their normal abilities and I find the times I have to pause in game to check a rule always tends to be to look up the rules of a feat.
What do you think? Am I making a mountain out of a bullette burrow? Is there something that you hate more? Let us talk about the things we hate the most about Pathfinder and see if we can come up with some solutions to these problems! Until next time, keep rolling.
Mark Knights is  39 year old guy living in a small rural town called Elliott in Tasmania, Australia.  I have been role playing since I was 11 years old playing the original versions of Dungeons and Dragons, MERP, Elric, Dragon Warriors and the like amongst other genre games.  I played D&D 2nd Edition through the 90′s but I ran Earthdawn for my fantasy setting and loved it as a GM.  When 3rd Edition came out for D&D I tried it but found it too heavy on rules.  I ignored the 3.5 edition of DnD in favour of Earthdawn (big mistake) as I thought it was just a money spinner.  When 4th Edition DnD came on my players and I gave it a red hot go but hated what it had dumbed the game down to be.  On a trip to Melbourne to buy some 4E stuff from a hobby store an old mate of mine pointed me at Pathfinder and in a Fantasy setting I have never looked back.