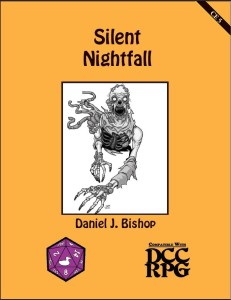 Author:  Daniel J. Bishop
Publisher:  Purple Duck Games
Art: Michael Scotta, Jacob Blackmon
Price: PDF $2.75 (sale) – RPG Now / d20pfsrd Shop / Paizo
Pages: 24 (incl. cover)
Campaign Elements
Silent Nightfall is the fifth installment in the Campaign Elements series from Purple Duck Games written by Daniel Bishop. The Campaign Elements line is designed to help a DCC RPG judge create a persistent campaign world and provide patron quests, divine quests, or any number of quests to help fill the "quest for it" vibe of DCC RPG.
The Campaign Elements series can also be used to provide a short side quest on nights you are missing a player. Or on an evening you need a short diversion from the main campaign events. The CE series is a very versatile set of adventures that easily drop into any DCC campaign.
Silent Nightfall
Silent Nightfall involves venturing into a nuclear power facility from a long gone era when magic was less prevalent. Since that era a new creature called the grallistrix has taken hold and is one of the creatures calling the facility their home. A mutated wizard also calls the area his home and even the energy of the remaining nuclear power can be used as a demi-patron for your Dungeon Crawl Classics campaign. If all the creatures inhabiting the area are not enough, a particularly sought after artifact is also located within the area.
While the location in this adventures fits in the vein of Appendix N literature, a nuclear power plant may not fit in with your campaign world. Daniel offers a couple of other options for a judge wishing to use this adventure but not use the previous civilization premise.
A background is provided for the judge to give him some information about the area. This is followed by a more in-depth description of the creatures within the remains of the structure, as well as the artifact lost within its depths. Before moving on to the encounter area descriptions a few ideas are presented for working the location into your campaign beyond just killing things and taking their stuff.
The included map covers the three levels of the structure. It is easy follow and for the motivated judge offers some room for expansion through collapsed corridors.
As is typical of the CE series there are several ideas suggested for "squeezing it dry". These ideas help provide a judge with some suggestion on where the PCs can go from here after running the adventure for them.
Silent Nightfall is also full of several appendices that can be used in conjunction with the adventure or "stolen" for use in other areas of a judge's campaign. These include a table of aberrations (due to the radiation, but easily adapted to be caused by something else). In addition to the table several specific creatures affected by radiation are included. The adventure also introduces the idea of demi-patrons. Demi-patrons are simply less powerful patrons that offer some assistance to characters but not at the capacity a full patron could. An expansion of the language rules is also included for judges wishing to use them.
And finally, a new lawful organization called the Radiant Brotherhood is introduced. This organization could easily be used as part of this adventure or borrowed for other areas of a judge's campaign. A level structure within the organization is defined and some stats for each of these ranks.
The Review
I find Silent Nightfall another great release in the Campaign Elements line from Purple Duck Games. The adventure itself is a great option for working into an existing campaign or as a side trek.
The inclusion of multiple new creatures is also sure to add to a judge's stable of creatures to surprise his players with. They could easily be transplanted to a different scenario with ease if the main encounter area did not grab a judge for some reason.
The concept of a demi-patron is an interesting one. A judge can easily expand this to other niche areas of their own campaign with the framework provided. I am sure I can find use for demi-patrons in my own campaign.
I continue to find the Campaign Elements line an excellent product. They have so many parts that are usable in existing campaigns – either in whole or part. I have always been able to find ways to include parts or sometimes the entire encounter area in my own long running campaign. The ease at which one can drop bits and parts or the whole encounter area into an existing campaign makes the CE line a great resource!