I read a blog on the weekend of the bloggers top 10 favorite games that were free to download. I was impressed at the depth of games that had been included and was even more impressed by the inclusion of at least one "big" name game of years gone by. Now the list that was provided was across all genres and I thought to myself that I could probably put something together in a similar style for the readers over here at the Iron Tavern blog to have a look over and consider playing. Honestly, quality gaming has never been so cheap!
Mark Knights' Top Five Free Fantasy Games
5. Halberd Fantasy Roleplaying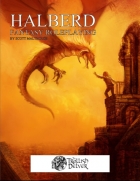 With a nod to the writing styles of Terry Pratchett and his disc-world novels this game sneaks in at number five. Humor in a fantasy game is always welcome at my table so let the system actually incorporate it! It is a high magic, high paced humorous look at the standard genre and well worth a look.
4. D6 Fantasy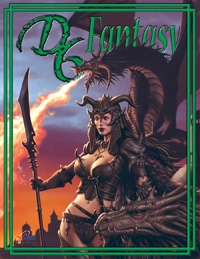 If you like a fair amount of crunch with your game try out the d6 fantasy game. The rules are in place and the game has a fantastic flow to them. Even better than the robust rules set has to be the array of supplements for the game that are all free too! So they don't suck you in with the basic free rules, they also give everything I could ever need to run a game!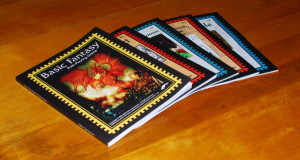 Written in an OSR style and based loosely on 3.5 edition D&D also Basic Fantasy is an open source role playing game written for fans of fantasy RPG's by the fans of fantasy RPG's! I am a big open source fan and it is why this one pips d6 Fantasy for third spot. The scope and setup of this game is great and I am very impressed with this games achievements! In this version not only can you download and play it, you could also possibly contribute to the game as well!
 2. Talislanta
Coming in a close second is a game that I have spent a good deal of time in my past playing. Talislanta! That is right, you can now download this awesome game for free (any of the 5 editions are up for grabs). This series prided itself on having no elves and in fact it has a very different fantasy setting that is rich and detailed. I am actually listed as one of the official play-testers for fifth edition which is a bit of a blast. I had a great deal of fun with this game. Although some of the books appear huge the rules are actually quite moderate and the books are heavy on setting. This game is well worth a look!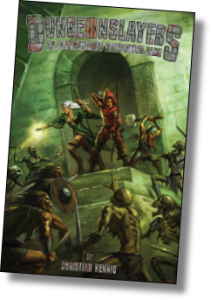 This is quite honestly one of the best looking, most professional free games out there. It is a game translated from its native German and it appears slick, rules lite and a fun game. There are a load of materials you can get for it including adventures, world information and a host of other materials. For such a great game I am surprised at how few people know about it AND how hard it is to find on Google! Use the link above to download the rules and get into some Dungeon slaying right now!
Check these games out and let me know what you think! Keep rolling 🙂
All images were taken from the websites that have been linked to this page to advertise the download of these products.
Mark Knights is  40 year old guy living in a small rural town called Elliott in Tasmania, Australia.  I have been role playing since I was 11 years old playing the original versions of Dungeons and Dragons, MERP, Elric, Dragon Warriors and the like amongst other genre games.  I played D&D 2nd Edition through the 90′s but I ran Earthdawn for my fantasy setting and loved it as a GM.  When 3rd Edition came out for D&D I tried it but found it too heavy on rules.  I ignored the 3.5 edition of DnD in favour of Earthdawn (big mistake) as I thought it was just a money spinner.  When 4th Edition DnD came on my players and I gave it a red hot go but hated what it had dumbed the game down to be.  On a trip to Melbourne to buy some 4E stuff from a hobby store an old mate of mine pointed me at Pathfinder and in a Fantasy setting I have never looked back.