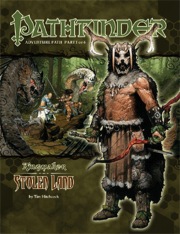 Several weeks ago I mentioned in my Game Scheduling post that my gaming group had been on a hiatus from the Kingmaker Campaign I am running. I had some come up that were going to keep me from being the most reliably person for an extended period of time, especially to be in the position of running the game. It appears our last game was July 7th.
Here we are, in early November ready to bring the campaign back out of Hiatus. Schedules have calmed down a little bit and I think the group is anxious to get back to a longer term campaign again. In this post I plan to look at two things. One, what helped our group stick together during our Kingmaker hiatus and two, how I plan to bring the campaign back from hiatus four months later.
Why Our Group Made It
The primary reason I think our group survived an extended break from our long running campaign is that we're all friends. Sure we game together and actually met through gaming for several of us. But over the years we've become good friends. Gaming is still our primary bond, but we long ago transcended the gamers that hang out together to gamers that are friends. This is certainly a primary reason why our group handled a break from our main campaign for the period of four months. I also think it is why we avoid a lot of the problems seen in other groups as well, but that is another topic for another post!
The other factor that really helped is our group has several people willing to actually run a game. It seems several groups out there only have one person willing to run a game. If that person is unable to run then the group simply does not play. This is certainly not an issue for our group. We have at least one other person who has no issues running a game. Between the two of us we run the majority of our group's longer running campaigns. So even when the current GM needs a break or something comes up that limits his time, there is usually at least one GM waiting in the wings ready to step up and run for the group.
Further helping our group is that we have at least another two players who are good for running a one-shot or very short campaign arcs on a fairly limited notice. This also goes far to help keep our group gaming even in uncertain times.
For times that there is short notice or perhaps our substitute GM has something come up there is always board game night. People can still meet up at our host's house and people can play a few board games instead of the normal RPG that was on the schedule.
All of this goes far to help keep our group together even when we have to put a longer term game on hiatus for a few months. It is also a good time to experiment a bit. During the course of this hiatus we were able to play Star Wars, Supernatural, Call of Cthulhu and I even ran the Pathfinder We Be Goblins as a one-shot when a short gap needed filled.
Bringing the Campaign Back
Four months. No serious talk about the campaign during that time and we are actually bringing it back to the table. How to pull this off successfully?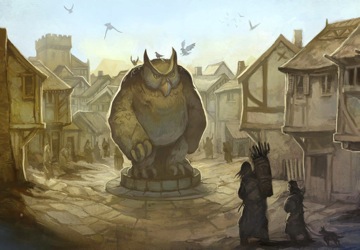 As GM of this campaign I have turned first to our group's primary tool, our message board forums. When we first formed our group we created a set of message board forums. We use the forums between sessions for planning of the next game, who is picking up food on the way, are we ordering pizza, etc. We also use it for between session recaps, roleplaying and out of character commentary to help know what we are going to be doing the next session.
My first step has been to read back through some of the threads on the boards to get a solid feel for just where we left off. I reviewed the main message board forums and went through the private forums for each character to refresh my mind with what hooks we had working on a character by character basis.
I also took this return to the campaign to ask for feedback from the group to see what they had thought was working well for the campaign so far, what could use some improvement and so on. I believe this will help bring the campaign to a strong conclusion despite the four month hiatus. I received some valuable feedback from this process and helped get the wheels turning again in my own head. It helps focus the energy for campaign prep if you know what the group thinks is working well and what could use some more work.  (If you are curious they primarily want to see more from the politics side of things and a little more depth to some of the NPCs.)
I have also been re-reading the portion of the AP we are in to get my head back in the AP and know where they have been and which important plot points are coming up. This seems an obvious course of action, but certainly not one to be overlooked.
We were at the tail end of the 4th installment of the Kingmaker Adventure Path. It looks like our first session back will be getting back in the swing of things with some exploration, making sure the political pieces are a little more obvious as to what is happening at this point and hopefully some NPC spice sprinkled in or at the very least brought back to the surface again. The group also has some interest on getting a standing army due to some prior events.
Wrapping Up
I am looking forward to assuming the GMs seat once again and getting things rolling. I am lucky to have a great group to game with – both in being patient while I took the time I needed due to outside factors and to have had a group that can fill that gap where I could not GM. I think with some of the preparation noted above we will have a strong start back to the Kingmaker campaign and have a strong finish. I am looking forward to this Thursday!
How about others out there? Have you had a game go on long term hiatus? Were you able to successfully able to bring it back to life? Any tips or techniques you felt made the return to the campaign put on hold especially successful?