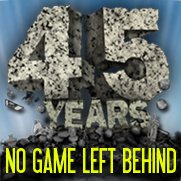 It looks like things have come together enough to allow me to sneak off to Gen Con for Friday and Saturday. By the time you read this I will be on the road for the trip to Indy!
Given the last minute nature of the go or no-go, I do not have a lot of games lined up. I plan on hitting the dealer hall up and wandering it aimlessly and then crossing paths with a few other friends I know are out there. I will keep my Twitter feed updated during my two days there. If you are at Gen Con as well, fell free to ping me on Twitter and we will see about meeting up!
Oh – and I may or may not have 20 0-level DCC RPG pre-gens in my bag and a few 3rd level pre-gens with a couple of DCC RPG mods to run if the urge strikes!
I will be writing up a post-Gen Con report here as well early next week. Also don't forget that my weekly series covering each character class in the Dungeon Crawl Classics RPG will continue next Friday when I will be looking at the Wizard.