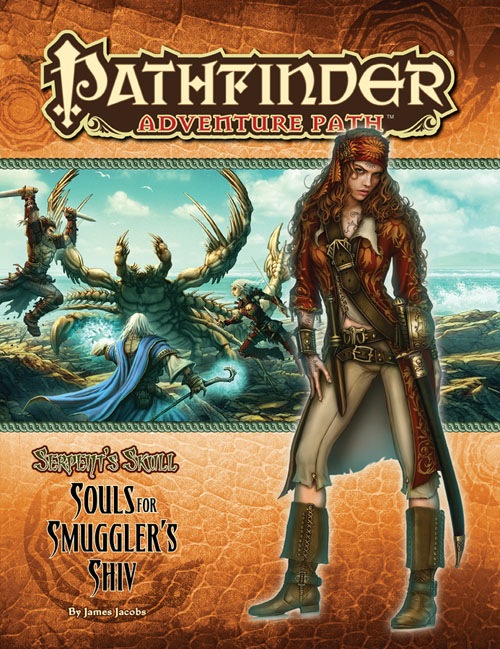 My local group recently finished up Council of Thieves. I did not run the campaign, the other GM in my group has been running it. This past week we started in on Serpent's Skull. That sounds typical of a lot of Pathfinder groups I am sure. Finish one Adventure Path and then move to the next. The difference in this case is that our GM let us bring our characters from Council of Thieves to the Serpent's Skull campaign. 10th level characters tackling a 1st level adventure.
My local GM has a habit of trying unusual things with his games. Our first game with him many years ago had the 1st level PCs finding a 150,000gp treasure hoard. Back in the 3.5 days he used to give us a feat every level. This time it is letting us carry over high level characters to a lower level adventure.
He has been planning this transition for several months, he mentioned it even towards the beginning of Council of Thieves. As the previous Adventure Path wrapped up he mentioned again that he was going to give us the option of carrying our characters over. Of the four of us, three chose to continue with their character. The three that chose to continue with their characters include a bard, rogue and inquisitor. The fourth had an urban ranger and did not feel he would fit in, so re-rolled an oracle. The fourth is entering the campaign at 1st level.
I have a lot of faith in our GM to pull things off like this. We have a good group, we trust each other and so far our GM's experiments have typically been successful. The other advantage he had going for him was the premise of the initial module of the AP involving a PC losing nearly all of their gear. He had a built-in way to separate us from all of our magical gear. Prior to the session he advised all of us to redo our character sheets without any of our gear except for one item of our choosing.
The GM had a hook to blend the APs together by taking an object we found amidst the Council of Thieves and needing to take it to the Mwangi Expanse to destroy it.
With the adventure underway the group found ourselves on an island minus a lot of our gear. Immediately we faced our first combat encounter with some crab-like scorpion things. The creatures obviously had their hit points boosted as it was taking several hits to kill them. They were still easy to hit, so the AC was the same. They were able to cause poison damage and that DC was left alone, though a combination of poor rolls still left 10th level characters feeling the effects of the poison.
Afterwards the GM confirmed with me my suspicions. All he had done to the creatures to ratchet them up a little was increase their hit points. The lack of gear really reduced the power of the characters and a few bad rolls still made the creatures somewhat of a threat.
Survival on this island is another component of the initial Serpent's Skull adventure. Even this has its moments of challenge. The survival rolls are pretty easy, but there are only two characters, one of which is an NPC, that have decent ranks in survival. There are still several logistics of survival on the island to figure out that require us to think as players regardless of level. So even with high level characters this element of the AP still retains its fun. Granted our party's make-up has some influence on this as we lack a wizard or cleric.
We are only one session in, but so far the experiment seems a success. By stripping us of our gear and boosting the hit points of the creatures we face, the element of fun is still there. It has been an interesting blend of Adventure Paths and I look forward to seeing how the rest of it plays out.