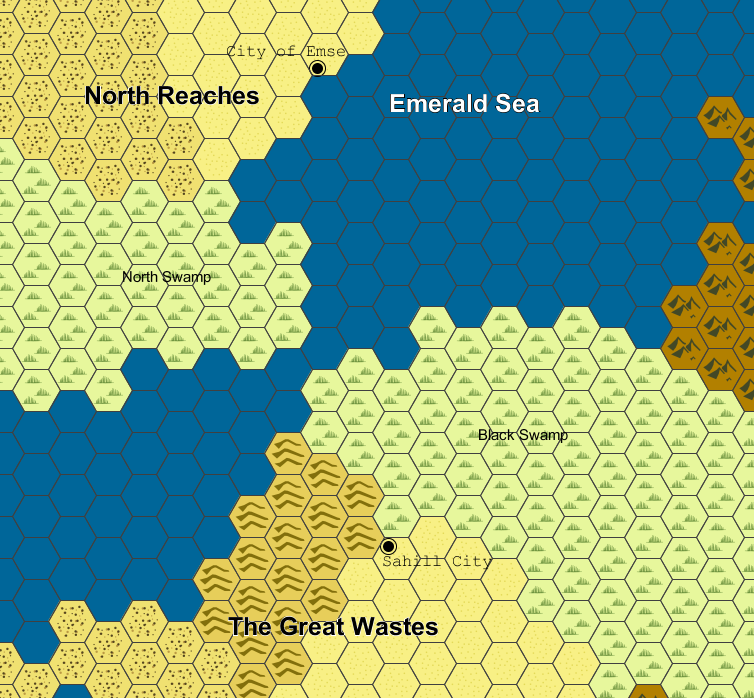 Any GM getting set to start a campaign must make a choice up front whether to run a published campaign setting or a homebrew. This choice helps set the stage for the whole game.
Several factors can influence which option a GM or a group chooses. Sometimes the GM makes the choice for the group, considering time, familiarity with a published setting and interest in a published setting. Other times the group will come to a consensus, though I find this more the case of how interested the GM is in running a published campaign world and having players have some input on which one.
My Past Choices
Since I came back from my sabbatical from gaming many years ago, I have been running my games in published campaign settings. I originally came back with Forgotten Realms, dipping my toe in little used areas, like The Vast (yeah, go check your campaign maps, it really is a region). Then I moved on to regions like the Silver Marches for the region to start my games.
I had a brief stint of seriously considering converting my games to the world of Erde from Troll Lord Games. I never did end up running a game in that world, but I think the fact it was lesser used and more of an unknown to many people is what tempted me to try that campaign setting out.
After many years of Forgotten Realms games Golarion caught my eye from Paizo and I started to run games in Golarion. A large portion of that was due to adventure paths being set in the campaign world, so it was only natural not to re-write all of those bits.
Why did I choose published campaign settings when I picked up gaming again? I thought it would save me time. I wanted to run adventures, not design whole entire campaign settings. That was my prime motivating factor in choosing to run published settings.
Now I do like the settings I have chosen in the past. I am a Forgotten Realms fan and Golarion has proven equally fun to read and run as well. But essentially, I chose these settings because I thought it would save me time by laying the framework of the world as my canvas.
Reconsidering
Recently I have found myself reconsidering running games in a published setting. I am starting to question whether it actually saves me time or not. The biggest hassle of running campaigns in published settings for me is the constant nagging that a decision I make on the fly ends up contradicting something within the campaign setting. Getting a distance wrong, judging the next door kingdom's attitude towards the one the characters are currently in, the name of a prominent Inn in a major city, and more. Frankly, it starts to feel like homework learning a new campaign setting well enough to run without constant contradictions. The prep just to learn the published setting starts to take away from the time I can prep for an actual adventure itself.
My New Choice
For my most recent campaign under the Dungeon Crawl Classics RPG system, I chose to "homebrew" my campaign world. Rather than starting with a completely mapped out and detailed world, I took a module and used it to start my world. From there we will be growing out as needed, the lands become more known and the story growing from there.
If I need an organization as a plot hook, I make one up instead of researching it. I can often make one up with some rough notes faster than I can research published materials to find just the right one. If I need a Kingdom next door that is threatening to stop transportation of raw materials, I can again jot down a few notes and the Kingdom springs into existence.
Or maybe I do see a city map and description I like in a published setting's guide. I am free to yank that for my own use and drop it into my world. I can use the building names alone, borrow NPCs, or if I need, ignore power structures that don't blend with my world and remove them.
So far it has been a great decision. It feels much more liberating. Things I make up on the fly are jotted down in notes and the world grows outward from there. No worries of contradicting something or needing to reference a campaign guide.
For times I do need something more involved, I can borrow something from a published setting and drop it down into my world with much less concern of invalidating something that is canon in the campaign world.
Conclusion
For years I thought I was saving myself time by choosing a published campaign setting. Given what I have learned over the past couple of months I am not so sure anymore. I think the work to make things fit well into a published setting wasn't really saving me as much time as I thought.
With that said, I still plan on reading various campaign settings and collecting the ones that interest me. There are a lot of good ideas out there and I would be foolish to ignore new settings all together.
What about you? Do you find published campaign settings a timesaver?