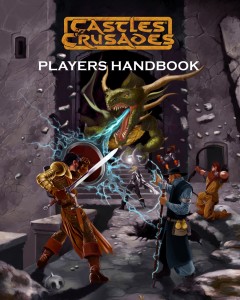 I just received an email tonight that Troll Lord Games is running a 40% off sale over at RPG Now. The sale is to celebrate the launch of their most recent Kickstarter for Codex Celtarum. The Codex Celtarum is a 144 page book for Celtic Mythology and includes over 150 new spells and more for your Castles and Crusades game. Castles and Crusades is of course a rules-light fantasy RPG game making use of the Siege Engine.
In addition to offering a large portion of their catalog at 40% off, they are also offering a bundle where any purchase of the Players Handbook comes with a free copy of Gods and Monsters.
Whether you are an existing player of Castles and Crusades or a new to the system, this is a great sale to take advantage of to build up your collection!