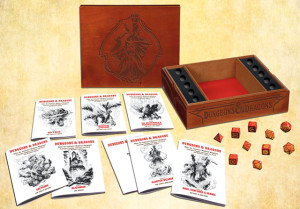 Not 100% sure when this popped up on Wizard's site, but it is there now. The Original Dungeons & Dragons RPG Premium Reprint. People were wondering if they would release this one. It appears the answer is yes.
It looks like the boxed set will include the following seven books:
Volume 1: Men & Magic
Volume 2: Monsters & Treasure
Volume 3: Underworld & Wilderness Adventures
Supplement I: Greyhawk
Supplement II: Blackmoor
Supplement III: Eldritch Wizardry
Supplement IV: Gods, Demi-Gods & Heroes
The blurb on Wizard's site says the books will have updated covers but the art inside will be the same.
The picture shows what appears to be a nice wooden box and also dice.
The price point appears to be $150 USD. Though that seems on the steep side to me, I am sorely tempted by this one.