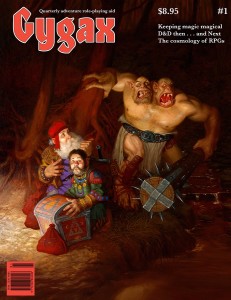 The Wait
On February 9th I received my shipment notification for my Gygax Magazine subscription noting my first issue had shipped. From about February 14th onward I began anxiously checking my mailbox every day for my copy to be here. I was frequently met with disappointment as each day the mailbox held no copy of the magazine for me.
On Saturday, February 23rd I received my notification the PDF copy of the magazine was available for download from DriveThruRPG. This was a welcome surprise as it seemed the word on whether subscribers received a free copy of the PDF went back and forth between yes and no. I am quite pleased that it turns out I do get a digital copy of the magazine as well.
I held out hope my actual print copy would arrive on Saturday as well and only downloaded the PDF to my iPad, not actually opening it. My patience paid off as the friendly postal worker delivered my magazine to my door just a few hours later!
I had been one of those people concerned about how long it had taken to receive the magazine. The PDF option helped lessen that concern a bit. The other thing I must remind myself of is even back in the Paizo Dragon days it used to seem to take a long time for me to actually receive my issue. There must be something about shipping a magazine at the periodical rate that equates to saying "send on the next mule that leaves the city".
The Reading
So I immediately headed to the fridge to get the Dead Guy Ale I had held in reserve for this moment, I turned off all my electronic devices and settled in with the magazine I had anxiously been awaiting. I was a little nervous as I had read an early review or two that was not thrilled with all of the articles saying several seemed more ego filled, patting their own back than anything else.
First, this thing looks so much like the old Dragon magazine I grew up with in the 80's it is uncanny. Opening up to just the table of contents further cements the this look. This look will bring a lot of fond memories flooding back for those of us who used to read Dragon many years ago.
I did a quick flip through, leafing through the magazine before settling in on the first article to read, The future of tabletop gaming by Ethan Gilsdorf. I really enjoyed this article, it too struck home on so many counts. After a depiction of what life was like as a kid in the 70's-early 80's, talk of Star Wars the movie and then his introduction to D&D. "I consumed the game and it rapidly consumed me." is a sentence from that article. How many of us does that single sentence describe? He goes on to talking about D&D as time moves on and how it is today and how it will survive into the future. This article resonated with me on so many notes, it is easily my favorite article in the magazine.
From there I bounced around the magazine a bit. Gaming with a virtual tabletop by Nevin Jones was a good read. It focuses on Roll20 and how it helped bring some gamers together for online gaming.
DMing for your toddler by Cory Doctorow was interesting as I run games for my kids frequently. It was nice to see how he simply adapted on the fly to gaming with kids and seeing what tactics others use. I think it was cool to see someone not needing to purchase a special kids RPG product, but just adapt a game you already know down to the kid level with some tweaks.
There is a small section in the magazine labeled Kobold's Cavern which is where some articles previously destined for Kobold Quarterly are going to appear, shepherded by Wolfgang Baur. A couple of AGE articles make their appearance here and a very nice alternative for Pathfinder feats with the introduction of scaling combat feats. This was an article written by Marc Radle and was an interesting take on tweaking how certain Pathfinder feats work. If I run a Pathfinder game again, I think I will be taking another closer look at this article.
Included as a special attraction is a writeup on a village by the name of Gnatdamp. Written by Michael Curtis it was an excellent location article. With a full page map of the village, an overview, a closer look at life in Gnatdamp, and much, much more this will be infinitely useful the next time I need a village for my PCs to find themselves in. It walks the delicate balance between enough detail to be useful without venturing into overly detailed territory quite nicely.
At the end of the magazine there are full color comics – Marvin the Mage, Phil and Dixie, and Order of the Stick. Yep – that is not a typo, Phil and Dixie are back!
The PDF
I did all of my reading for this review on the print copy. I did fire up the PDF on my iPad though just to take a look. The display and readability on the iPad was great. The downside was the magazine was not bookmarked. In today's day and age of the PDF a non-bookmarked PDF was pretty unusual. Hopefully they either update the current PDF or at the very least improve that with the next PDF issue.
Thoughts
As is evident from the articles I touched on above I am really satisfied with my purchase of this magazine. My decision to purchase a subscription to it sight unseen has further been reinforced with this inaugural issue.
Yes, there was some people starting their article with a short blurb on their credentials. I did not find that out of place or obtrusive in the slightest. It felt more like gathering around the table a bit to hear from some folks that have been playing D&D and been in the industry for a long time.
There were some articles I was not fond of in the magazine. An article on science fiction in your game and an article on ICONS. I very much live in the fantasy RPG niche and I am not too into superhero games. But even the old Dragon of past used to have articles like this and I remember skipping those articles even then. There is enough value in the articles I did enjoy that the inclusion of these non-fantasy genres is not a significant issue. If nothing else it reminds me of the Dragon magazines I read as a kid!
I am quite pleased with the inaugural issue of Gygax Magazine. The magazine is available in print and PDF. I would recommend giving the magazine a chance and taking a look. I enjoyed my read through of it and am already anxiously awaiting next quarter's issue!