Today is Swords & Wizardry Appreciation Day as noted in my earlier post today. 130+ blogs are participating in a one-day blog fest posting all manner of things about Swords & Wizardry.
The Iron Tavern has another post lined up for later today, but for now if you are growing curious about the system, this is a great day to pick up some deals. I want to make sure my blog followers are aware of the two big discount codes running today, and today only.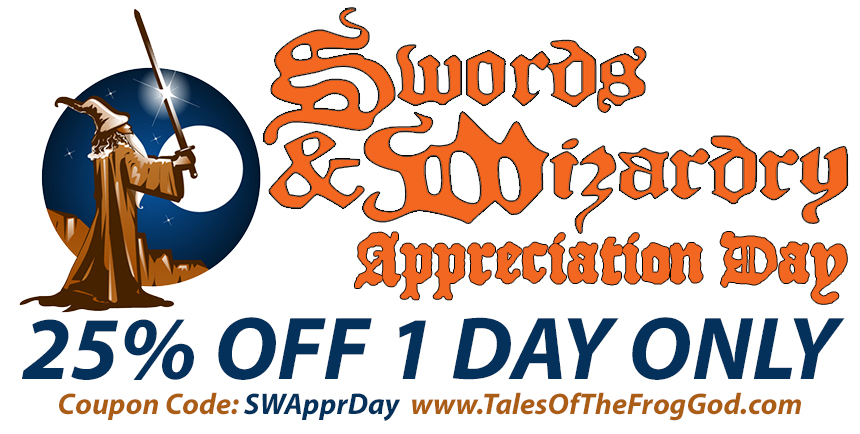 First up, Tales of the Frog God site has released a 25% off coupon code. Here you can get physical copies of the books or PDFs. The coupon does exclude items less than $1, S&W Cards, Pre-Orders, and Subscriptions. Still an awesome deal, I even picked up a coloring book for my daughter! The code to use when checking out is:  SWApprDay

The d20pfsrd.com store is also running a 25% off sale on Swords & Wizardry PDFs. The d20pfsrd.com store hosts the Pathfinder SRD and the more recent Swords & Wizardry SRD. The coupon code to use at that store is:  SWAD252013
So if you are starting to get curious about Swords & Wizardry and what you have might have been missing out on or just want to build up your collection, be sure to visit one of the above two online stores to take advantage of this 25% off deal.
And don't forget to check back at The Iron Tavern later today as I release another S&W Appreciation Day post, which just might involve a map!