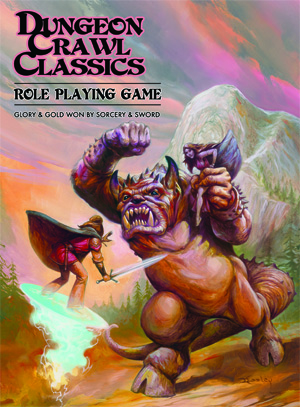 Looks like Goodman Games is releasing another limited edition cover for the Dungeon Crawl Classics RPG. This one has the art of Jeff Easley gracing the front. The cover appears to depict some demon-hoof-ogre-giant-like beast on the front clutching a woman in one hand while menacing another adventurer on a magical floating disk. Yep! This is Dungeon Crawl Classics!
This is the 4th cover for the Dungeon Crawl Classics RPG rulebook. The first was the gold foil cover, then the "normal" cover, and the "wizard" cover by Doug Kovacs. Cool stuff!
It is $59.99 for the pre-order and pre-orders will also receive a copy of Stefan Poag's Classic Dungeon Crawl Art Folio.
It also looks like at least a couple of new modules have shown up on their coming soon page. Both lower level adventures with Fate's Fell Hand, a 2nd level adventure, and Frozen in Time, a 1st level adventure. And I do believe that is a robot I see on the cover of Frozen in Time.