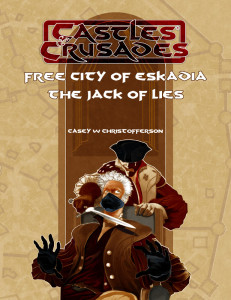 Troll Lord Games is running a preorder for the Free City of Eskadia: Jack of Lies for the Castles & Crusades system. There is seven days left to get in on this and try to push the product from a softcover book to hardcover by reaching the $4000 pledge level.
The preorder is being run in a very similar manner to a Kickstarter, minus the Kickstarter site! There are various pledge levels ranging from a PDF of the book at $10 to a $125 Master Thief Pledge  which will get you the PDF of the book, a physical copy of the book in hardcover if the $4000 goal is met, or softcover if not, plus posters and other Castles & Crusades "core" rulebooks.
The city of Eskadia sits just off the Vestlig Sea. Known as one of the deadliest cities in the world a variety of guild and trading barons seek to control the city. Beyond the squabbling of these power groups the city is also known to house several various cults of the underworld and black magic adding to the complexity of the power struggle. And deadliness of the city.
The book contains descriptions of neighborhoods, markets, plazas, inns, and more. The sourcebook will offer all the information you need to make the city come alive as a backdrop for a city adventure in your own campaign.
Troll Lords have posted a preview PDF of the product for you to take a look at. If you are interested in seeing this tome produced as a hardcover, you have seven days left!