It is time for DriveThruRPG's Christmas in July sale! It is the time of year where RPG fans can get 25% off products from 400+ publishers. The sale started at 9am this morning and ends on Sunday, July 28th.
The Iron Tavern is going to take a look at just a few of the products available as a part of this sale. This list is by no means complete, just a handful of the items on sale that catch my eye.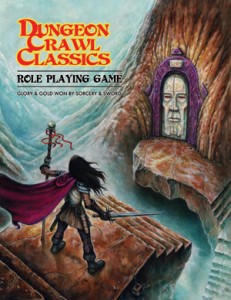 Goodman Games
Goodman Games has their product line on sale this week. The Dungeon Crawl Classics RPG is picking up steam and here is a wonderful chance to get started with the game by picking up their PDF version of the rulebook at 25% off.
Dungeon Crawl Classics RPG is a complete rule system from Goodman Games with "old school sensibilities" but a modern take on the mechanics. Still leaving the power in the judge's hands DCC RPG adds in character classes that stand on their own. Thieves, dwarves, wizards, halflings, and more all have fun class mechanics to freshen up very familiar character classes. Spells that require rolling on a table to see if you are successful in exchange for a chance to get wondrous results even at the early levels adds even more to the game.
If you have been on the fence regarding Dungeon Crawl Classics RPG, the sale price for the PDF is great way to get started.
Their module line for DCC RPG is on sale as well. I have run many of these modules and they have provided hours of entertainment for my group. Excellent cartography, interesting adventures, and inspiring artwork are all pluses for the DCC RPG module line. If you are looking for a 0-level funnel adventure to get you started, Sailors on the Starless Sea is a great intro to the game.
3rd Party DCC RPG Publishers
If you are already a fan of DCC RPG and looking to gather up some more adventures for your campaign, several of the 3rd Party DCC RPG Publishers have their products on sale this week as well.
Purple Duck Games
Purple Duck Games has included their products in the sale. I have reviewed many of their products at The Iron Tavern and played through a good portion of them. I still have a soft spot for Bone Hoard of the Dancing Horror. I ran this as a one-shot and the entire group had a great time with this one. It will easily drop into most DCC RPG campaigns with minimal baggage.
Their new product line, Campaign Elements, is also on sale this week. I have read each of the ones currently released and they too will easily fit into an existing campaign. My group is currently finishing their way out of The Falcate Idol and they have described it as epic!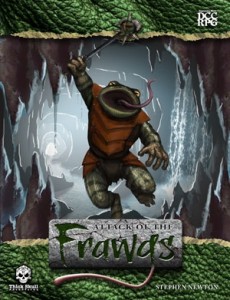 Thick Skull Adventures
Thick Skull Adventures as Attack of the Frawgs on sale this week. This is another fun area based adventure that will fit into most DCC RPG games. Look for more coming from Thick Skull Adventures in the near future, but this is an example of their work so far!
Purple Sorcerer Games
Purple Sorcerer Games has their 0-level funnels (easily converted to 1st level adventures as well) available. Each of these adventures takes place around The Sunken City making tie-ins to each other quite possible. I used the Sunken City region as the basis for my current campaign that is approaching a year's worth of play. We launched that campaign with The Perils of the Sunken City.
Even More
Dragon's Hoard Publishing and Mystic Bull Games also have their products listed as part of this sale. I have reviewed several products from both of these publishers as well and have found places for them in my own campaign.
There is plenty of material to help fill out your DCC RPG adventure collection.
Troll Lord Games
Lest I seem too hung up on the the DCC RPG system, there are plenty of other offerings this week. Troll Lord Games has their product catalog on sale as well. Troll Lord Games has the Castles & Crusades included as part of the sale. I find Castles & Crusades a fun system for someone that really likes the 3.x and Pathfinder feel but does not want to step all the way back to OD&D, BECMI, or 1st Edition D&D rules. With that said one can still easily use older or newer D&D adventures with Castles & Crusades to give the busy CK lots of options.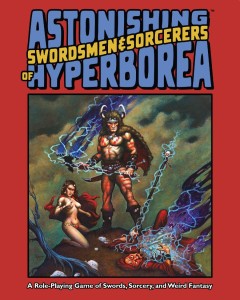 North Wind Adventures
And finally, North Wind Adventures has their ENnie nominated Astonishing Swordsmen & Sorcerers of Hyperborea in the sale. I have not checked this one out yet, but I am curious about the system. This might be my chance to pick it up.
As you can see a good week to fill out the gaps in your RPG PDF collection at DriveThruRPG. Definitely browse around as the items I have highlighted are just some of the things that caught my eye.