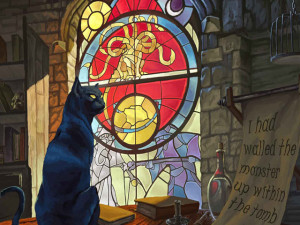 This news has circulated a bit in a couple of my social media circles, but I wanted to boost the signal a little more. Frog God Games plans to make the PDF of Swords & Wizardry Complete free for everyone (not just backers) if their current Kickstarter hits 400 backers. I think this is a pretty awesome way to help get S&W out there in the hands of some more folks and a some additional incentive to back their current Kickstarter.
Just what is Frog God Games kickstarting now? A new adventure from Bill Webb called The Lost Lands: Sword of Air Pathfinder & Swords & Wizardry. Currently the tome is running 500+ pages and is going to be available in both Pathfinder system and Swords & Wizardry system – your choice when you back it. With several different adventure areas, this adventure area has been a part of Bill's campaign since 1977. Rather than try to summarize it all, take a look at the Kickstarter page and read all the details as they describe it.
As I have regretted missing the Rappan Athuk Kickstarter I decided to go in on this one. Plus – I think letting S&W Complete loose on a wider audience is a good thing!