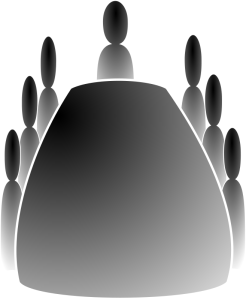 If your games are designed anything like mine your players will face the reality of having to do social interactions to find out key pieces of information. Even if the Barbarian beats the NPC to an inch of his life and then intimidates him it is still a social interaction right? Now I do not want to tar everyone with the same brush but it is true that there are a lot of socially awkward people that exist in our hobby.
Take me for example. I am a good writer (great when I can be bothered editing what I write), intelligent, a good teacher and trainer and great public speaker. BUT put me in a party where I have to talk about my self or about socially acceptable things and I clam up. I can't stand large social gatherings. I get angry and upset at myself which turns into a brusqueness that people mistake for me being a complete and utter ass. I also am recovering from depression so mixing alcohol with that mix is a recipe for social awkwardness at best.
In game though I expect, and am expected to, run characters with social confidence. I can do this because it is a hat that I can put on that is not me but others may struggle to do this because of their issues. So, as a GM how do we handle a player's ability to handle social interactions. Nearly every game has a social mechanic added to it and suggestions on how to handle that social nature of the game.
Inside each of these games there are suggestions on how to handle this material. Some games suggest if the players are comfortable then role-play it out. Others suggest players may not be as charismatic as their own characters and that is why the mechanic exists as it acts as an equalizer for the party. Of course there are a number of options that exist in between in many games and I think I have tried most of them over my gaming career. But which works the best.
It may or may not surprise you that it depends on two things. The first is the makeup of the party and the other is you, as the GM and your capabilities. The first thing you really need to look at is yourself. This is the one thing you have the most control over and hopefully the most understanding of. You need to do some self reflection and work out why you want to run a game that is at its heart a social game. It is all about the to and fro interaction between yourself and the group and how that dynamic works.
I do not want to scare you, especially if you are a new GM. But you must know your limitations. If you know you are going to struggle with social interaction, or more importantly, the roleplaying of social interaction look to the system you are using and get familiar with the system. Because it is the great equalizer. You can say to the players "The guard asks you for your identification again even though you have told him you don't have any. This is going to need a bluff roll to get past." That is all great. It equalizes things, especially if you have really experienced players who are trying to hog the limelight and railroad you into letting their honeyed words convince you.
The second piece of advice I have for you is this. Being a GM is wearing another hat. It is a role you can inhabit. NPC's are other people you can play to. As a GM it is expected that you will act in these roles and it is your time to be able to inhabit the mind of someone else. Ham it up. Use this time to build your confidence and know that the longer you do this role the easier it gets. Sure it is demanding and people will look to you as an authority but you are also human and it is OK to muck up as well.
The second thing you need to look at is your group and the mix of players. There are a bunch of different player types that I don't want to confuse you with here (but if you want, read my post about it at the Pathfinder Chronicles) but I need to say you will have players that enjoy a different style of play. Some of these players may be more socially capable than others so look to their characters as well. If a player is roleplaying their half-orc barbarian with a charisma of 3 as a fluent, socially capable character trying to convince a princess to give up some information, something is wrong.
This is also where the system can act as a great equalizer. With a mechanic then all players are equal. That said, though your group may roleplay to the character and you may be comfortable enough to run the roleplaying freeform. It is likely to cause you quite a bit of trouble over your career as a GM before you work out where that line exists in your game. The longer you run games, the quicker you will adapt to situations and be able to run game with different groups successfully, but you really need to know all the different styles out there for this type of material.
So, in short, my best advice is take a look at yourself, at your players and experiment. It can be daunting and it can also be fun but get in and give it a try. Put the hat on and GM like a demon and listen to your players. You will soon work out what they like and don't. Keep rolling!
Mark Knights is  39 year old guy living in a small rural town called Elliott in Tasmania, Australia.  I have been role playing since I was 11 years old playing the original versions of Dungeons and Dragons, MERP, Elric, Dragon Warriors and the like amongst other genre games.  I played D&D 2nd Edition through the 90′s but I ran Earthdawn for my fantasy setting and loved it as a GM.  When 3rd Edition came out for D&D I tried it but found it too heavy on rules.  I ignored the 3.5 edition of DnD in favour of Earthdawn (big mistake) as I thought it was just a money spinner.  When 4th Edition DnD came on my players and I gave it a red hot go but hated what it had dumbed the game down to be.  On a trip to Melbourne to buy some 4E stuff from a hobby store an old mate of mine pointed me at Pathfinder and in a Fantasy setting I have never looked back.