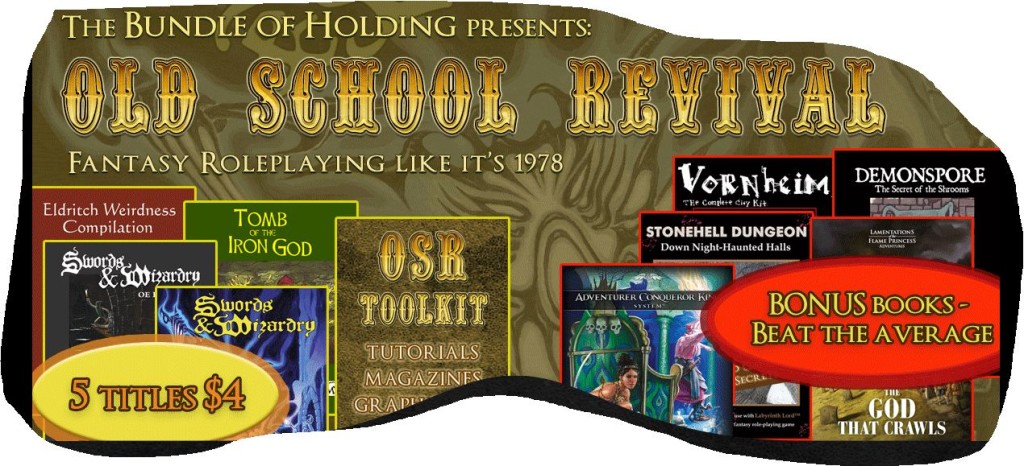 Regular readers of The Iron Tavern know I tend towards an OSR style of game these days. I run a weekly DCC RPG game and dabble in running other games under various retroclones such as Swords & Wizardry and Labyrinth Lord. Maybe you've been curious or maybe you just need to fill out your collection of OSR products, but this week's Bundle of Holding has gone OSR!
What is a Bundle of Holding? Bundle of Holding is a gathering of variously themed products and offering the bundle for one low price for the PDFs. 10% of your payment is sent to charity. For the OSR bundle your 10% will be split between the Cancer Research Institute and the Parkinson Foundation.
In addition there is the core offering and the bonus offering. The core offering is a very low minimum price that gets you a certain set of products. The bonus offering is yours if you pay above the current average price for the bundle.
Here is what is currently in the core offering of the OSR Bundle of Holding:
Swords & Wizardry Complete
Swords & Wizardry Monster Book
Eldritch Weirdness
Tomb of the Iron God
OSR Toolkit (a bundle in and of itself with Labyrinth Lord (no-art version), OSR essays, graph paper, etc)
Now a couple of the above are already available free for download, but with a minimum to pickup for $4 and helping a charity – still a good deal!
Moving into the bonus material is where it gets interesting. To get these products you need to pay more than the current average (just shy of $14 now).
BONUS: Adventurer Conqueror King
BONUS: Demonspore
BONUS: Stonehell Dungeon (plus supplements #1 and #2)
BONUS: The God That Crawls
BONUS: Vornheim: The Complete City Kit
I actually only had the Stonehell product as it is the direction I am leaning for my winter megadungeon campaign. But, ACKS, Vornheim and the others are ones I have been quite curious about, so this is a good opportunity to pick them up!
There is still just under 4 days to pickup this bundle. And keep checking back to the Bundle of Holding website as they may continue to add more bonus materials along the way.
This is a great way to help out a couple of charities and either start your OSR collection or supplement!