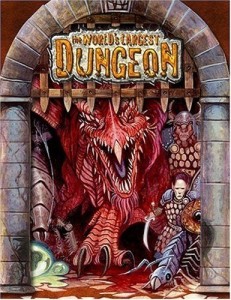 In 2004 AEG came out with the World's Largest Dungeon. It is an interesting idea and with a $100 price tag really got the attention of gamers as being expensive. But  a lot of people were curious about what it was. It is not a book one could just flip through the pages as it came shrink wrapped because it came with free standing maps that needed to be attached to the book somehow.
It was met with a wide range of opinions and eventually a small selection of players started posting they made it through the behemoth dungeon. I was not originally interested in the book until I found it for about $30 at Origins. I read through it and while it had some interesting encounters it was also a huge single level dungeon with not a lot of promise. There is a backstory and different sections of the dungeon can be expanded on to make it a more cohesive story. That's what I did and I ran it all the way through. It was fun, there was work involved to make it better, and I'm pleased to say I have no need to do that ever again. There will be some spoilers to follow so be aware of that though I don't see as many people wanting to use this these days.
It was never my intention to run this. It wasn't the first huge RPG book I bought with no intention of using and it most certainly was not the last. A friend saw it and expressed interest and I came up with some ground rules for running it knowing player and DM burn out for something like this would be high.
The dungeon was originally a prison. Characters that go in will find it very difficult to get out. I wanted my players to know that before we started. Teleportation and other magics do not work there and again I made sure the players knew this so there were no characters that were going to get overly screwed over by the new found rules.
Some players and DMs will not like restrictions and feel it is cheating. In my view the game breaks down so easily with high level magic that restricting them is one of the best ways to keep the game fun and manageable. The dungeon is ridiculously huge and while mapping it out and getting lost is very much part of the experience I eliminated it. I did not want to spend sessions with the PCs lost walking around trying to find something of interest. I gave them the maps. There was no in game explanation for it. I also told them the dungeon is basically sixteen different sections and we will only handle one section at a time. If they left a section that would be the end of that night's adventure as I wanted to prep each section when they came to it. It allowed me to connect the different sections better than the module does and to include better NPCs and not make everything a combat encounter. The best rule we did though was not start at first level.
Not a lot of the backstory is explained to the PCs so as usual I came up with a way to make them more aware of what was going. As they enter there are hints of guardians and deities, so I expanded on that and made sure the backstory fit in with most of the goings on in the different sections. Section A is mostly empty and has some other beings like kobolds and goblins that have found their way into the Dungeon and cannot get out. They are warring with each other. The most awesome thing about the campaign happened when the players decided to broker a peace between the groups and unite them as allies. All of a sudden this was not just an exploration module, but a rescue mission in which the PCs stuck to and made friends and kept alive as many different people and monsters as they could that were willing to work together. The PCs had created for themselves a basecamp and support team. It allowed me to develop some more NPCs and since they were introduced so early we had NPCs that lasted the entire campaign.
The different sections of the dungeon do have different themes. One goal of the writers was to use each monster in the monster manual that was part of the Open Game License and they succeeded in that. There is one area that is a large garden so many of the plant and fey creatures are found there. One is the headquarters for the celestial guardians that stayed to operate the prison. One that is neat as they used the creatures drawn from Greek Mythology and placed them in a section together. They mostly stayed with good challenge ratings to make sure that different sections had a level recommendation for them. It worked and made the different areas easier for me as DM to polish them up and use their themes to make the adventure shine.
In the end it is a mammoth of a book that took some work and some ground rules for us to enjoy it. I don't think we would have gotten beyond the first section if we tried to run it as they have it presented. AEG also made a book called the World's Largest City which I found also deeply discounted and it lies in a box or on a shelf somewhere still in the shrink wrap.
Chris Gath.  I've been gaming since 1980 playing all kinds of games since then.  In the past year I've run Pathfinder, Dungeon Crawl Classic, Paranoia, and Mini d6.  My current campaign is mini d6 and we are using that for a modern supernatural conspiracy investigative game.  On some forums I'm known as Crothian and I've written a few hundred reviews though I took a sabbatical from reviewing for a few years as it burnt me out.  I was also an judge for the Gen Con awards (ENnies) six times.  Jeff, the owner of this blog, is one of my players and a good friend.