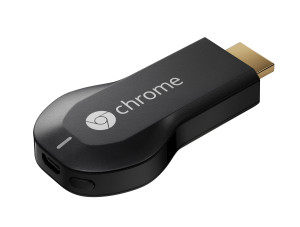 Chromecast
Google entered the streaming media player market with their Chromecast product last year. Priced at $35, the Chromecast is slightly larger than a USB key and goes into the HDMI slot of your TV. It needs auxiliary power through either a USB connection or power adapter. Once installed (which is very easy) you can "cast" certain applications to it – Netflix, YouTube, HuluPlus and such. You can also "cast" Chrome browser tabs to the device from a computer. This opens up a few more possibilities for the device.
We have several streaming media devices at home as we cut cable/satellite years ago. We have an older model Roku that serves our needs very, very well. One of the TVs has Netflix built-in which also covers a lot of our streaming needs. And of course a PS3 that has the ability to stream various forms of media.
So why would I even consider the Chromecast (and the tie-in for this post to an RPG blog)?
Roll20 and the Chromecast
When I read a little more about the casting of a Chrome tab my thought went to gaming and could I cast a tab running Roll20. I did some quick Google searches and it seemed some folks had tried this. With an Amazon gift card I decided to try this out and ordered a Chromecast.
It arrived a couple of days later and I set it up on the main TV in the house. One of the first things I tried was casting a Chrome tab (after installing the Chrome extension). A normal web page cast with minimal issue, though there was a bit of lag between what was displayed on the computer (MacBook Pro) and the screen. Nothing particularly problematic.
The next experiment was to cast a tab running Roll20. This initially worked pretty well, but soon the flaws became more evident. As I worked in Roll20 (removing fog of war, using the drawing tool, etc) the lag became more apparent and the tab would become disconnected from the Chromecast frequently. Typically I could just reconnect – but during a gaming session I'd rather be gaming – not troubleshooting tech.
I have continued to play with "casting" a Roll20 tab and still had intermittent results. The initial page display is fine, but the longer the "casted" tab is used the more problematic the "casting" becomes with disconnects and such.
Conclusion
At the current time I don't think the Chromecast is quite ready for the use I had in mind for it. I suspect things will improve in the future as Chromecast updates and Chrome extensions are further refined to make them less resource heavy (both network bandwidth and computer). But for the moment my idea of reliably casting a Roll20 tab is not ready for prime time just yet.
I will continue to use the Chomecast and watch as updates to it and the apps that can use it take place. But for the moment – if you were considering a Chromecast for the purpose of casting Roll20 tabs I would hold out just a bit longer.