March 4th marks GM's Day – a day to show your GM how much you appreciate them. What started as a post on EN World way back in 2002 has evolved into a major sale day/week at many of the online RPG stores. How big? About 30% off big!
Iron Tavern Press is happy to participate in the sale at the two locations our products are sold – shop.d20pfsrd.com and RPGNow.com. Both Kajak's Kave and The Hive are at the lowest prices you are likely to see them. In fact, once the GM's Day sales end, The Hive will be going back up to normal pricing, its introductory price it was release at expiring. If you have been curious about what I've been releasing under the Iron Tavern Press name this is a wonderful opportunity to check them out.
Pocket-Sized Encounters are small scenarios ready to be dropped into your campaign with very short notice. Whether to offer a side-trek to your players or using one of the 'Where To From Here' hooks to expand them into more is up to you. The product includes maps, adventure hooks, suggested ideas for expansion, and in some cases new monsters and new magic items. And don't forget the random treasure hoard tables useful in any situation.
Written to be compatible with the Swords & Wizardry system, these products are easily converted to your fantasy system of choice.
Here are the summaries from each.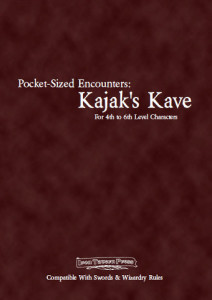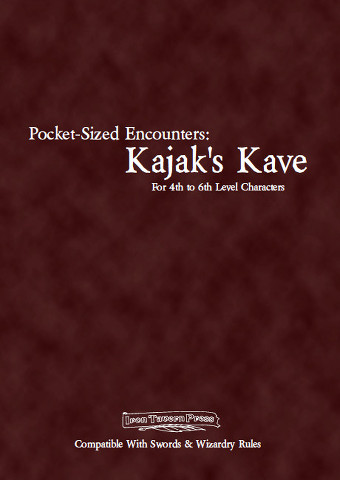 Kajak's Kave
Livestock disappearing from their pastures, children discovering large humanoid footprints along the creek, rumored sightings of a lumbering giant, and Shaerie the Huntress' disappearance several weeks ago leave only one conclusion. An ogre has taken up residence too close to town! Are you the brave adventurers to help rid the town of this threat and discover the whereabouts of Shaerie?
Available at shop.d20pfsrd.com and RPGNow for $1.93.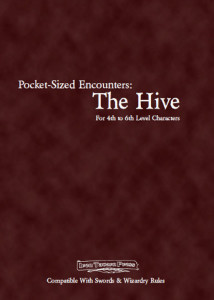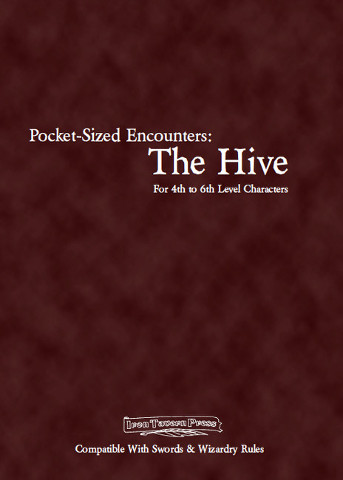 The Hive
Lord Oakensun was fascinated by insects, spending hours cataloging and classifying his collection. Discontent led the man to experiment with forces he did not fully comprehend. Now farms outside the village have been found abandoned. Lord Oakensun's daughter is missing, last seen near rocky hills a short distance away. A local thief reports his partner was snatched away in the dark amidst sounds of buzzing and chittering. Has Lord Oakensun's experiment gone wrong? What is behind the rash of disappearances from the village?
Available at shop.d20pfsrd.com and RPGNow for $1.40.