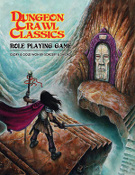 'Trouble in Castle Whiterock' is the nineteenth episode of a Dungeon Crawl Classics RPG actual play podcast. Additional information can be found at http://irontavern.com/podcast.
Session Synopsis
This week we check-in on Meffridus, Kpnooney Klaus, Tsanth and the others. From them we learn there has been a possible attack on the Temple of the Moon through the sewers. With precautions put in place we return to the exploration of Castle Whiterock.
With the monks having retreated further into a defensible portion of the ruins, the new crew works on ferreting them out. Their position turns out to be much more defensible than originally thought.
Meta Note: This episode includes a little bit of meta discussion at the end of the session. It frames some of the future direction and felt it should be included. Also – the end seems an abrupt cut-off due to me accidentally cutting the good-byes I normally leave in there.
Download Link: http://irontavern.com/wp-content/uploads/2014/06/Episode-19.mp3
Credits
Intro and outro music is 'Wrecking Ball' from 137 from http://music.mevio.com.