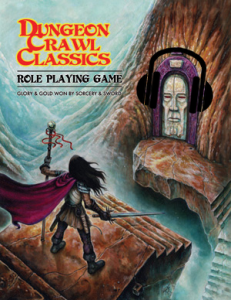 As I finish the final mixing of audio for Episode #21 of the Dungeon Crawl Classics RPG Actual Play podcast I felt the need for a "meta" post. This covers some of the behind the scenes thoughts that happen in the campaign that don't get recorded and get discussed in our community group.
Regular listeners know the group put their high level characters on a bit of a hiatus and picked up some lower level guys in the town of Cillimar. Some stayed in the town, others went back to the Great City and some went off into the mountains to seek keys to unlock great power.
The high level characters at the time had just come off a beating at the tower of Leotah. She had laid a gauntlet of sorts for them as a defensive measure. A measure that took its toll on the characters who ran it (Episode #15 if you are curious).
It was around this time they decided to get some downtime in Cillimar and take some new characters, lower level characters out for a spin. The next several podcast releases focused on those new lower level characters. A good time was had, but after awhile the players began to miss their higher level characters.
There was much discussion in our private community group and the decision was made to return to the high level characters. There were several plot hooks that were unanswered and as the time passed (real time) with the lower level group, the gang wanted to make a return to the Great City.
We've experimented a lot in this campaign with introducing new characters. I piloted a 'cut-scene funnel', i.e. running a funnel adventure with a whole new set of characters who could later join the main group as replacements. The trial in Cillimar was another such experiment.
With the decision made to go back to the main, high level characters I believe we have reached the closing phases of the campaign as a whole. There are several major plot elements to resolve, some of which continue to unfold in the as of yet released episodes.
In either case, the soon to be released Episode #21 marks the return to the characters affectionately known as Satan's Glee Club.