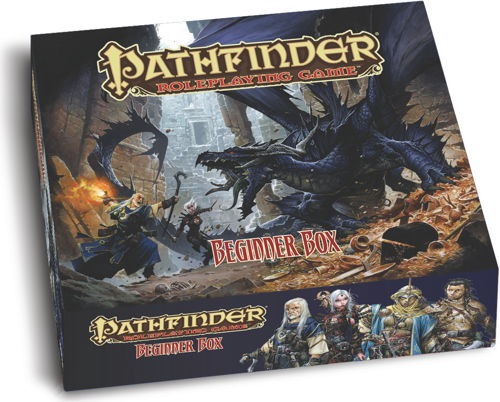 Anticipation? The Beginner Box has been out for well over a month you say?
Yes, I have a still shrink-wrapped, unopened Pathfinder Beginner Box on the top shelf of my closet. Why in the world do I have that? It is going to be a gift for IronPup's rapidly approaching birthday next week. So far I have made all of my Will Saves to keep from peeling away the shrink-wrap and peering inside. This in spite of numerous blog postings, tweets and message board forums talking about how great the set is.
I will admit that I did take the money I saved by ordering from Amazon and picked up the PDF of the set from Paizo. But honestly, that's just so I can be ready to run it when IronPup opens the set himself on his birthday! Well, that is the story I am sticking to!
That is why you have not seen a review or unboxing of the Beginner Box at the Iron Tavern yet, because it is sitting on the top shelf of my closet.
The Iron Tavern and the Beginner Box
I will be taking pictures of the set similar to my other unboxings here at The Iron Tavern. The caveat being that IronPup will be the one doing all of the opening initially. I hope to at least get some good shots of the pawns up, included battle mat and dice that come with it. That post will come pretty early after opening next week.
Even with the delayed opening I still plan on reviewing it once it has been opened. To help make up for the late review I will be holding off on reviewing until after we have had a chance to play it, then I can justify the later review with an actual play review! Not only will it be an actual play review, but it will also be one with a youth. He has some Pathfinder experience already, but through my own trimming down of the rules. I think with the Beginner Box he will be able to read and verify the rules himself and possibly build his own adventures to run me through as well.
So keep an eye on The Iron Tavern for these upcoming posts coming in the next couple of weeks. If there is anything in particular you want to know about feel free to drop a comment here and I will try to include it in the unboxing or actual play review.
Beginner Box Campaign
I also have plans as to how I will be using the Beginner Box with IronPup once he opens it. We will certainly start with the first solo adventure at the beginning of the Player's Guide to start.
One IronPup finishes that we will roll into character creation for a character we will embark on a longer term campaign with. We'll start with the introductory adventure and then the freely downloadable one form the Paizo site. If he is happy with his character we will probably get some friends together and start off a mini-campaign with The Crypt of the Everflame. I am hoping to get a few friends together, possibly over Skype and play a few hours on the weekend every other week.
If all goes well with that then we'll add in Masks of the Living God and  City of Golden Death to round out the mini-campaign arc.  Where we go from there is undecided. A lot will depend on how much IronPup seems to enjoy the game and how he wants to proceed. I am looking forward to seeing how it plays out!
Your Beginner Box Plans
Now you know my plans for the Beginner Box, both for The Iron Tavern and games I plan to run with it. How have your experiences with the Beginner Box been? Anyone else planning on running a campaign with the Beginner Box and use it for more than just an intro to Pathfinder?