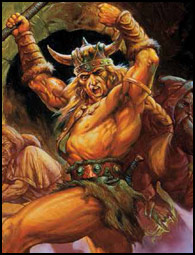 As seen on Tenkar's Tavern this morning (seriously if you want up to date news on items in the OSR niche of the RPG world, you need to add Tenkar's Tavern to your feed), the 2nd edition D&D reprints have popped up at Wizard's site. The Player's Handbook, Dungeon Master's Guide, and Monstrous Manual are all there, going for $49.95 per book. Looks like the currently advertised release date is 5/21/2013.
Reprints
So far we've seen the 1st edition D&D reprints, the 3.5 D&D edition reprints and now the 2nd D&D edition reprints surface. It certainly seems Wizards is going through their back catalog and re-releasing older editions to the market. They likely have little choice but to do this. It is a relatively easy way for them to get some revenue while they are in this lull between editions. By announcing D&D Next so early for the sake of the playtest, they certainly have made a large dent in their 4e sales.
Reprints and Me
I've picked up the 1st edition reprints. I was most attracted by those when they were first announced, but then decided I did not want to pay that much. Not that the price was bad, it was more my frugal side than disagreement with their pricing. Amazon tempted me with their prices, but I resisted. Then at Gen Con I found a booth that was selling them for slightly less than one could get them at Amazon. I could not resist and picked all three of the 1e reprints up.
I wasn't tempted at all by the 3.5 reprints. I have my 3.5 books still and Pathfinder fills any need for this era of gaming for me. I have picked them up at the local Barnes and Noble, but still did not feel the need to purchase them.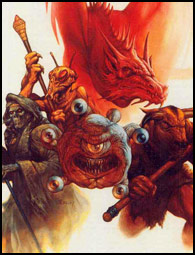 The 2nd edition reprints falls into the same area as the 3.5 ones did with me. I still have my 2e books and do not really feel the need to replace them with the reprints. I am sure that many have their roots in 2e though and will feel compelled to pick them up.
There are two products if re-released in this manner I would purchase. The Rules Cyclopedia and a re-release of the Moldvay boxed set. Moldvay is what I cut my teeth on and I have somehow never picked up a Rules Cyclopedia. The local Half Price Books had one marked up to $50, but it was in horrible shape.
The Reprint Decision for Wizards
I understand why Wizards has chosen to release reprints. They need something to generate revenue while folks wait for D&D Next to come out. Given the amount of 4e books I see at the local Half Price Books, I suspect a lot of folks have been unloading their 4e books. I also suspect it is hard to sell a 4e book at the moment with the new version on the horizon. Selling reprints gives Wizards an easy way to generate some short term revenue while the playtest continues.
I do have to wonder if they further fracturing their market though with all of the previous editions coming back out to the market. I would suspect they are bound to lose sales to these older editions. Of course, maybe they folks they are selling these to would never have made the move to D&D Next, so they are just subsidizing D&D Next development with the dollars of gamers who likely would not have made the move to the new edition to begin with.
I do not have a horse in this race, so for me the reprints work out just great. I managed to get my 1e reprints for a great price and I have hope they will at least release a Rules Cyclopedia. With talks of some of the older module series coming back in print, I can use those with whichever system I am playing at the time. So it is a win situation for me. We'll see if it is a win situation for Wizards of the Coast when D&D Next is released in 2014.