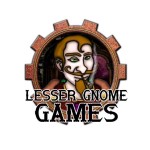 My Lesser Gnome Games swag arrived late last week! Lesser Gnome Games had a presence at Gary Con this year, but circumstances prevented me from attending as I had hoped. Instead Zach of Lesser Gnome Games shipped me a T-shirt for his upcoming Kickstarter, Whisper & Venom, and the Thopas the gnome mini!
If you haven't heard of Lesser Gnome Games or their upcoming Kickstarter, Whisper & Venom, it is well worth following what they have in the works.
The Kickstarter for Whisper & Venom is coming in June of 2013. The product is a boxed adventure bundle for use with fantasy RPGs. The adventure and setting will not be system specific, but it seems it will have old school sensibilities.
From the Facebook page for Lesser Gnome Games:
"Whisper & Venom is a small setting and adventure that describes the coming of a great evil to a pastoral village in a remote valley. The signs of danger are subtle, but as a intrepid party of adventurers makes a investigation, great mysterious and terrifying secrets reveal themselves."
Included in the Deluxe box set will be an Adventure Book, Setting Guide, Poster Maps, unique miniatures, and more.
Folks are getting more leery of Kickstarter these days, but I think this is going to be one to watch, especially with the OSR crowd. Zach at Lesser Gnome Games has been planning the execution of this Kickstarter for many months now, hence the June 2013 launch on Kickstarter. The Facebook page notes the adventure has already been written, so this is not a case of put the Kickstarter up and then write the project. Commissions for the artwork has already begun as well as Lesser Gnome Games gets everything lined up.
Lesser Gnome Games has also wrangled in some big names for some of the work inside this Boxed Adventure Bundle.
Jeff Dee is doing the cover and illustrations. Jeff is in that first-generation D&D artist group having done art in the early days of AD&D. The gnome in the pictures below was done by Jeff Dee.
Alyssa Faden is doing the full color poster maps. Examples of her work can be seen on The Cartography of Alyssa Faden Facebook. Excellent work and nearly guarantees the Poster Maps will be awesome looking!
Center Stage Miniatures is doing the 28mm figures for the set. The gnome (pictured below) was done by them and it looks great.
I will be keeping an eye on this one as it unfolds, so I am sure we will see some more about Lesser Gnome Games and their Kickstarter here as it evolves. Make sure you get the news straight from them though, their Facebook page is active and is great way to follow their progress as June nears. For those that prefer Twitter you can follow them @lessergnome.
The Iron Tavern also happens to have an extra mini that I plan on giving away in a contest. I just need to figure out what that contest will be! But keep an eye out for the contest announcement in the coming weeks to win a Thopas gnome mini!
And finally – a closer look at some of the swag. My good camera is in a box somewhere, so  please bear with the cell phone pictures.