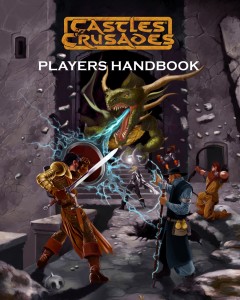 Troll Lord Games is having a 50% off sale on their Castles & Crusades PDFs this weekend over at RPGNow! This is a really good deal for someone looking for an inexpensive way into the Castles & Crusades system or hooked at their last sale and ready to pick up some more supporting material.
Included in the sale are the Players Handbook, Castle Keepers Guide, and Classic Monsters.
Castles & Crusades is a great rules-light, but still robust, system if you are feeling weighed down by hefty tomes of rules from more recent rule systems. I wrote a little about Castles & Crusades late last year here at The Iron Tavern.
Note: The prices on the main listing pages seem to reflect the discount correctly, the individual product pages are not. Once you add them to your cart the discounted price is reflected.