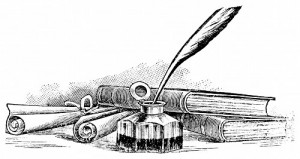 Last week The Iron Tavern put out the call to add a few bloggers to the pages here. I felt there was more going on in the fantasy RPG community than one single blogger could keep up with. I have experimented with guest blogger posts in the past with great success. The Iron Tavern has been able to provide reviews and commentary on other fantasy gaming systems I might not have found time to give the attention to.
By adding bloggers it also presents the opportunity for new perspectives and ideas to be offered on a regular basis at The Iron Tavern.
I had several people interested in blogging for The Iron Tavern as a result of the call I put out last week. I have chosen four of those people to being regular posts. This week will be an exciting week as we see the first of those posts start to appear.
Today I wanted to introduce the new folks. I asked each of them to write a brief bio about themselves for today.
Mark Knights
I am a 39 year old guy living in a small rural town called Elliott in Tasmania, Australia.  I have been role playing since I was 11 years old playing the original versions of Dungeons and Dragons, MERP, Elric, Dragon Warriors and the like amongst other genre games.  I played D&D 2nd Edition through the 90's but I ran Earthdawn for my fantasy setting and loved it as a GM.  When 3rd Edition came out for D&D I tried it but found it too heavy on rules.  I ignored the 3.5 edition of DnD in favour of Earthdawn (big mistake) as I thought it was just a money spinner.  When 4th Edition DnD came on my players and I gave it a red hot go but hated what it had dumbed the game down to be.  On a trip to Melbourne to buy some 4E stuff from a hobby store an old mate of mine pointed me at Pathfinder and in a Fantasy setting I have never looked back.

Currently I run a couple of Pathfinder campaigns (one on Google+ and the other in person) and a Classic Traveller campaign (on Google+).  I am finishing the alpha version of my own game which is highly confidential at the moment.  I run my own blog at www.thepathfinderchronicles.com which initially was going to be a Pathfinder only blog but has broadened since its start in October last year.  In real life I still don't know what I want to be when I grow up, but I am currently working as a teacher of all things Computer!
Brian Fitzpatrick
Brian "Fitz" Fitzpatrick is a Software Engineer who manages (or is that mangles) Game Knight Reviews and tinkers with writing game materials via his Moebius Adventures imprint. When he's not writing about gaming, he's actually gaming or at least thinking about gaming in some capacity. During the non-writing, non-gaming time he's likely trying to keep up with his wife and two daughters or wrangling code for a living!
Alan Kellog
The name is Mythusmage. More formally, Alan Kellogg. I am a blogger and a gamer, and I opine on various subjects and topics. I believe that you should do your best at whatever you do, and I refuse to cheat on your behalf simply because you refuse to try. Personal initiative is what I believe in, and I'll do what I can to make your adventures interesting. Demand special treatment for any reason and you're apt to get stomped on by your enemies and opposition. Give it an honest try, and while you may not succeed, others are apt to extend you some respect.

I live in San Diego CA, have been gaming since 1964 (board games) and 1975 (RPGs). Have credits in Dangerous Journeys: Mythus and have helped out with a few other projects (Charlemagne's Paladins for TSR for instance). Currently working on a revision of Mythus for possible publication.

What will my blog posts here be about? Better gaming, better play, making your adventures more involving and involve more. You'll learn more as the posts progress. So welcome, and I hope you find what I write interesting, informative, and useful.
Crothian
Well known for his reviews from the glory days of EN World, Crothian brings his wealth of reviewing experience to The Iron Tavern. In addition to reviews Crothian has years decades of gaming experience that often causes him to experiment wildly with game rules to push the limits. From feats at every level in D&D 3.5 to starting a Pathfinder adventure path with existing 9th level characters, Crothian explores the boundaries of various gaming systems.
The Iron Tavern welcomes the new bloggers!