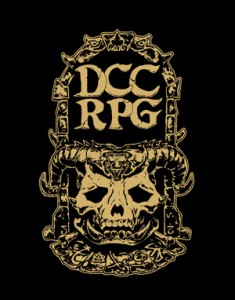 I have seen various comments and questions about campaign play in Dungeon Crawl Classics RPG. DCC takes its inspiration from Appendix N books and stories. And really, a lot of the Appendix N stories originate from short stories written for fantasy periodicals of the era. Short stories lend themselves to minimal periods of travel and whisking the reader from point of adventure to point of adventure. And sometimes there are unknown gaps of time between stories that are not connected in any one way.
Appendix N Foundation
For example, Conan stories cover very little travel. Conan is just in the country or situation the story merits. The action moves quickly and he is quickly embroiled in the core elements of the story with just enough setup to get the reader up to speed. In addition, going from one story to the next the reader is left not knowing what events have transpired between each story. This works very well for stories that used to appear in magazines over the course of several months.
Another component I have noted with Appendix N literature is that even when the book is a novel, things move quickly. In one 200 page book one can be taken from arriving at a new city, journeying off across the sea, getting stranded on an island with a gigantic creature, to getting rescued to learning more about the first city, to a daring raid on that city. All in 200 pages. Appendix N stories move fast, very fast. More major events can happen in one book than happen in some trilogies.
DCC Adventures
Back in the land of Dungeon Crawl Classics. A lot of the adventures that have been released are also self-contained (for the most part) adventures that setup the plot, and get the characters into it quickly. Compared to the favoring of Adventure Paths that are popular today, that seems a bit unusual to players and judges who have not formed their roots on joining disparate adventures or their own crafted adventures together to for longer running campaigns.
The nature of many of the DCC adventures seems to lead a lot of people to being curious about how DCC works for a longer based campaign. We've all heard the roaring success of DCC in a one-shot – either at cons or perhaps as a break for established gaming groups. But just how does a campaign work in DCC?
My Experience
I have been running a DCC RPG campaign online for well over a year now. Same core group of players and a continuing campaign. I have run almost exclusively published adventures. We have a mix of levels in the campaign now, 5th level being the highest and we had some hirelings level up to 1st level (I think one of the characters is amassing an army for an as of yet undisclosed reason).
I started with Purple Sorcerer's The Perils of the Sunken City to kick the campaign off. It gave me a city to work with if the campaign stuck and a unique way to include a variety of adventures that might not otherwise fit together (for those unaware, the Sunken City has an interesting mechanism to facilitate quick and sometimes random travel).
Since then we've explored more portions of the Sunken City, the Great City proper, mountains off to the east and northeast and into the sea waters west of the city. I have not really had a specific path in mind, I've been letting the characters sort of take me where they want to go. Then I try to work in a lead-in to certain modules or look for modules that sort of fit what the group is up to at the moment. It seems to have worked out pretty well for us so far.
From my time judging I think the key thing to keep in mind going into it is – expect the unexpected. Trying to plot out a lengthy campaign arc all ahead of time is quite difficult in DCC. There is just so much randomness built into the system that trying to predict what your game will look like in three months is an exercise in futility. Embrace that and you are ready to run a DCC RPG campaign.
Spell corruptions, vengeful patrons, curses, and other afflictions all start influencing the characters from day one of the campaign. Even players that thought they knew how they wanted to see their character progress are thrown loops from the randomness of these events.
Bend your game to fit these random events and you will find yourself able to piece together a successful DCC campaign. Just don't expect to go into it with the Adventure Path mentality (not meant in the negative, I've run and played in  my share of adventure paths!) and think you have the next 12 months of gaming figured out. You don't.
By trying to remain flexible, saying yes to the character's ideas, and molding the hooks for published adventures to the current state of the game it does not take much to weave a campaign together. Just some duct tape and baling wire!