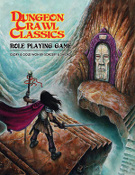 'Regrouping' is the twentieth episode of a Dungeon Crawl Classics RPG actual play podcast. Additional information can be found at http://irontavern.com/podcast.
Session Synopsis
With near devastating casualties on the last folks the party sent to Castle Whiterock it is time to recruit some new ones for another push into the castle. Regrouping in Cillamar the group sets out again to root the monks out of the ruins. A perilous climb up the tower high above the ruins grants the party egress into the castle via a different route. That path is not without hazard however…
Download Link: http://irontavern.com/wp-content/uploads/2014/07/Episode-20.mp3
Credits
Intro and outro music is 'Wrecking Ball' from 137 from http://music.mevio.com.