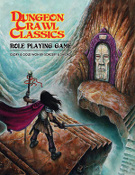 The new Dungeon Crawl Classics campaign kicked off earlier this week with my online group. We are starting out in the Shudder Mountains from the recently released Chained Coffin boxed set from Goodman Games. The set has plenty of great material to get the campaign rolling and we opened up with the 0-level funnel, Sour Spring Hollow.
Most of the guys from the actual play podcast are back together again for some DCC fun. Everyone was pretty excited and had characters generated well over a week ahead of game start time.
One of the players, Dustin Clark, has even gone as far to write and record a Shudder Mountain Campaign Theme Song! He unveiled the lyrics early in the week to our little community group. But then a few hours before game time we were treated to an actual recording!
And here it is!
Artist: Dustin Clark
Song:  Cross Your Path (Rough Cut)
*all rights are Dustin Clark's
If you liked it, Dustin has some other songs out their previously released on Spotify: