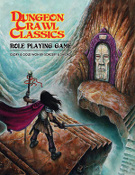 'The Overlord's Safe Room' is the 25th episode of a Dungeon Crawl Classics RPG actual play podcast. Additional information can be found at http://irontavern.com/podcast.
Session Synopsis
With the adventuring party in the Overlord's safe room, they quickly learn the battlefield is rigged against them. A difficult fight erupts as the Overlord's minions work to hold off the group, aided by many tricks of the room itself! Everything from suppressed casting ability, to traps within the room itself, to powerful guardians await the party in the Overlord's safe room.
Download Link: http://irontavern.com/wp-content/uploads/2014/12/Episode-25.mp3
Credits
Intro and outro music is 'Wrecking Ball' from 137 from http://music.mevio.com.