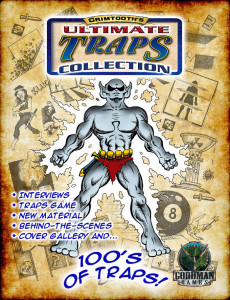 There is just under 7 days left in the most recent Goodman Games Kickstarter. The Kickstarter this go around is for Grimtooth's Ultimate Traps Collection. As I write this they are $91k into their Kickstarter (and that will likely be at least several thousand higher by the time this actually posts). Goodman Games knows how to run a Kickstarter, so if you are in the need of traps or simply some inspiration for some traps you owe it to yourself to take a look at this Kickstarter.
Grimtooth's Traps is over 500 systemless traps for your game. You can either use the traps as written or simply use them as some inspiration for your own traps with some tweaks and modifications of your own to adjust the deadliness of them for your game. Systemless means whatever your fantasy RPG system, there is going to be something in here for you.
Grimtooth's Traps was originally released back in 1981 or so and had several volumes. The first five – Grimtooth's Traps, Grimtooth's Traps Too, Grimtooth's Traps Fore, Grimtooth's Traps Ate, Grimtooth's Traps Lite – are the focus of this Kickstarter, but if the $100,000 goal is hit, then Grimtooth's Traps Bazaar, Grimtooth's Dungeon of Doom will be released in PDF form. If $130,000 is hit, then the extra content will be included with the gold foil cover and leather cover.
There are several levels one can pledge at to get this tome. Depending on your pledge level will dictate which form you get. Anything from PDF to soft cover to hard cover to faux leather to full on leather cover.
At this stage there are already a good number of stretch goals already hit. Everything from Grimtooth's board game to ribbon bookmarks in the book to retro dust jackets to a DCC module with Grimtooth himself in it. So lots of extras as things coming into the home stretch of this Kickstarter.
If you are on the fence, there are a few PDF previews of the book over on the Kickstarter page so you can check it out.