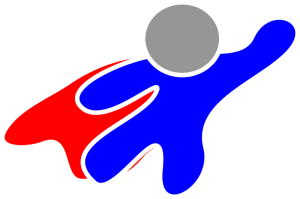 Heroic fantasy requires your characters to wear their underwear on the outside and stand up! If you are planning on playing in a heroic fantasy game your character needs to be the one the King thinks of when in dire need. It had better be your name on the peasants' lips rather than a gods when the Tarrasque crests the horizon because heroic fantasy needs heroes, not zeroes.
These are the tropes of heroic fantasy, and largely high fantasy. They are the Dragonlance Saga and David Gemmell's books as opposed to Elric the anti-hero. So, how do you play a character in a fantasy game that seeks to make you the star that offers change to the world around you. To make things safer for the masses and become legends across time and space?
Heroic characters are bold characters. Their actions are never for themselves and they always attempt the impossible. If there is a hard decision to make it is the heroic character that makes it and it is always the decision that risks the most but achieves the huge win. For example, if there is a 10% chance you can get all the peasants across the gorge or there is a 90% chance you can save most of the peasants crossing the rapids the hero always goes for the hard option (the bridge) because it saves everyone!
Of course this means that true heroes are forces for good and they put that force above all else. It is OK not to listen to or bargain with the lich because it is an evil creature. There need not be any thought about that. Blast the lich because it is obvious it is evil. A truly heroic individual does not work in grey. Grey areas are things that exist in dark fantasy, not heroic fantasy!
The heroic character also tends to serve a force for good, like a good God or a kingdom. Make sure that does not detract from your character though. Toss it in as a catch phrase here and there ("By the power of greyskull!") but make sure that it is all about you! The hero is the centre of the story and the reason is backstory. Don't let it shine too much.
When interacting make sure you are the pure fit for your class. Finely toned fighters that move gracefully. Hooded rogues whose voice is like a whisper but cuts through any noise. A wizard in flowing colorful robes with a pointed hat and eyes that burn with power. You are much more than any non adventurer. Prepare some cliched words for when you meet your nemesis, because you can be assured that you will meet a nemesis in a heroic campaign.
Spread your legend too. If there is no bard in the town, hire one to follow you around and turn your deeds into song and poetry. Hire a bard to talk to the damsels or gents that you saved in your most recent action. Speak loudly in taverns of your latest exploits. You are no hero if no one knows your name!
If you know you are playing in that heroic campaign give some thought as you build the character on how you want them to stand up and shine. A good character will trump a neutral and an evil character but these characters can also shine in their own right. Just make sure you play the character bold and brilliant to ensure that the hero within becomes the hero that the whole world sees! Until next week, keep rolling!
Mark Knights is  40 year old guy living in a small rural town called Elliott in Tasmania, Australia.  I have been role playing since I was 11 years old playing the original versions of Dungeons and Dragons, MERP, Elric, Dragon Warriors and the like amongst other genre games.  I played D&D 2nd Edition through the 90′s but I ran Earthdawn for my fantasy setting and loved it as a GM.  When 3rd Edition came out for D&D I tried it but found it too heavy on rules.  I ignored the 3.5 edition of DnD in favour of Earthdawn (big mistake) as I thought it was just a money spinner.  When 4th Edition DnD came on my players and I gave it a red hot go but hated what it had dumbed the game down to be.  On a trip to Melbourne to buy some 4E stuff from a hobby store an old mate of mine pointed me at Pathfinder and in a Fantasy setting I have never looked back.