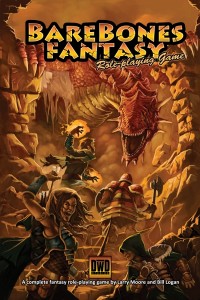 I have mentioned BareBones Fantasy a few times here at The Iron Tavern. The game is a "rules-lite" fantasy game that contains everything you need to start playing in one 80-ish page book.
My first experience with it has been quite fun. With that said there are a couple of things that take just a little bit to wrap your head around when you first get started. Two of the big things for me were how multi-actions played out and resistance checks to avoid taking damage and how that worked with multi-actions. Now that I have played it makes perfect sense and is really an elegant mechanic.
Larry Moore has posted a short actual play session online at YouTube to help cover some of these frequently asked questions about the game. The video specifically seeks to cover the following game rules
Multi-Actions
Initiative
Resistance Checks
DR
House Rules
Spells (Repel, Offensive Strike, Dispel
The video is worth a watch if you are curious about BareBones Fantasy RPG.