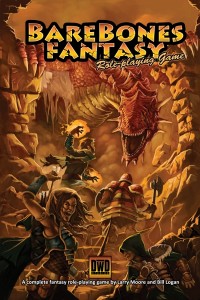 BareBones Fantasy RPG has gone gold over at RPGNow. BareBones Fantasy RPG is a "rules-lite" fantasy RPG that uses d10's for action resolution. I have posted about it several times here at The Iron Tavern.
BareBones Fantasy packs a whole lot into an 80-ish page rulebook. Enough to get a person rolling with the game and play for quite some time. The fact it is a "light" system helps ensure fast play.
It is good to see it getting some of the attention it deserves over at RPGNow!